BTS is the most famous and successful K-pop group in history by a tremendous margin. The group pretty singlehandedly put their company Big Hit Entertainment on the map, such that it could ultimately evolve into the multi-billion-dollar HYBE Corporation, which now encompasses other labels and groups like TXT, Seventeen, and NewJeans. But it all began with BTS, who debuted on June 12, 2013 with the lead single "No More Dream" on the album 2 Cool 4 Skool. The members of BTS are spread out by roughly five years in age, but to explain how old they are individually, here is the age and birthday for Jin, Suga, J-Hope, RM, Jimin, V, and Jungkook.
Current Age and Birthday for All BTS Members
Jin is 30 years old and was born on December 4, 1992.
Suga is 30 years old and was born on March 9, 1993.
J-Hope is 29 years old and was born on February 18, 1994.
RM is 29 years old and was born on September 12, 1994.
Jimin is 27 years old and was born on October 13, 1995.
V is 27 years old and was born on December 30, 1995.
Jungkook is 26 years old and was born on September 1, 1997.
This means that, back when BTS debuted in June 2013, their ages were as follows: Jin was 20, Suga was 20, J-Hope was 19, RM was 18, Jimin was 17, V was 17, and Jungkook was 15. Jungkook is the maknae ("youngest person in the group"), but owing to his diverse skills and the general fame of BTS, he is often described as the "Golden Maknae." Meanwhile, Jin is the oldest member of the group, but he is not the leader. RM, who falls squarely in the middle of the group for age, is the leader of BTS.
If you are new to BTS, this might feel like a lot of names and numbers to juggle. This picture matches a face with a birth date to make it easier to understand how old the BTS members are: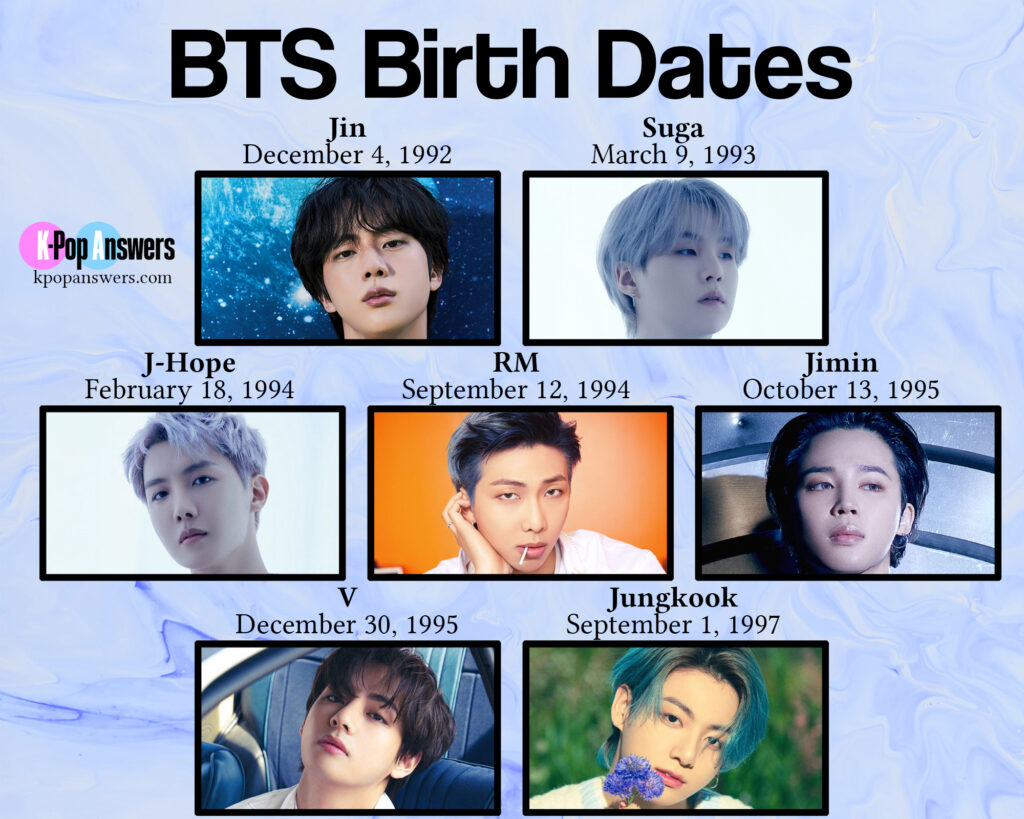 These are all of the most important details about how old the members of BTS are, including their age, birthday, and even their age at debut. To date, there is no other K-pop group that has penetrated pop culture globally to such a dramatic extent, but Blackpink would rank as second place among currently active groups. NewJeans is certainly on the rise as well though among fourth-generation groups, and it stands to reason that many future K-pop groups will thrive internationally thanks to the road paved by BTS, as well as other, earlier groups like Wonder Girls.
For more about HYBE boy groups, check out how old the TXT and Boynextdoor members are, or check out how old the Seventeen members are at HYBE label Pledis Entertainment.