With millions of albums sold, Tomorrow X Together, also known as TXT, is a highly successful K-pop group at Big Hit Music and HYBE. In a way, this was to be expected, as TXT were the first boy group that Big Hit had debuted since BTS in 2013. They have proven to be far more than just hype though, delivering several Korean and Japanese albums to an increasingly large legion of fans all around the world. TXT originally debuted on March 4, 2019 with the lead single "Crown" on the EP The Dream Chapter: Star. If you want to know how old the individual members of Tomorrow X Together (TXT) are now, here is the age and birthday for Yeonjun, Soobin, Beomgyu, Taehyun, and Hueningkai.
How Old Explained: Age and Birthday for Each of the TXT Members
Yeonjun is 24 years old and was born on September 13, 1999.
Soobin is 22 years old and was born on December 5, 2000.
Beomgyu is 22 years old and was born on March 13, 2001.
Taehyun is 21 years old and was born on February 5, 2002.
Hueningkai is 21 years old and was born on August 14, 2002.
With that in mind, at the time that they debuted in March 2019, their ages were as follows: Yeonjun was 19, Soobin was 18, Beomgyu was 17, Taehyun was 17, and Hueningkai was 16. That makes Hueningkai the maknae ("youngest person in the group"), and he is notable for being ethnically half German and half Korean. His older and younger siblings are also idols, being J'Lea (formerly of VIVA, now a soloist) and Huening Bahiyyih (Kep1er) respectively.
Meanwhile, Yeonjun is the oldest member of TXT, but it is actually Soobin who is the leader of the group, as the result of a vote in which members and staff had unanimously chosen him to lead. (Soobin had voted for Yeonjun though!) If you are new to TXT and have trouble matching a name with a face and birthday though, use the visual aid below to help you figure out how old the members are.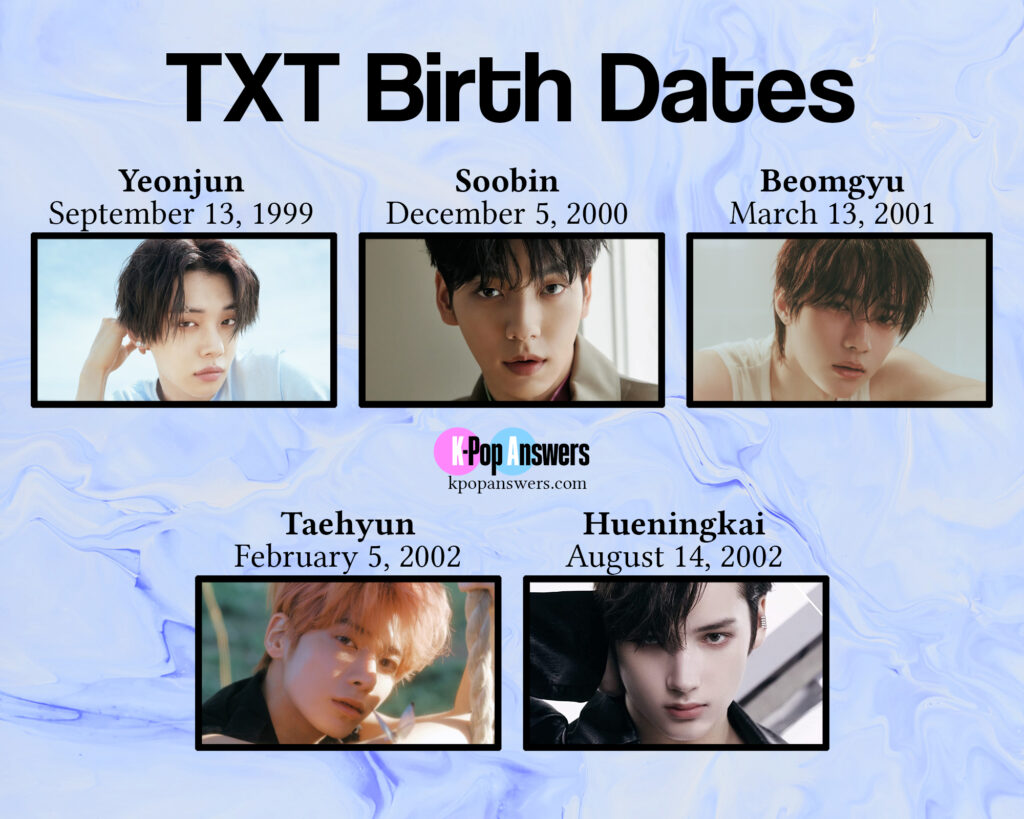 Between current age and birth date, that is everything you need to know about how old the Tomorrow X Together (TXT) members are. They are certainly a good bit younger than big brother BTS, but they're pretty analogous in age with, say, a fourth-generation group like Itzy.
For more about HYBE boy groups, check out how old the Boynextdoor members are.