The first season of A2K was an incredibly exciting project between JYP Entertainment and Republic Records, airing between July 13, 2023 and September 21, 2023, and K-Pop Answers has a summary of the entire A2K series to enjoy. However, the final result of A2K was a new American K-pop group, VCHA, who will bridge the gap between Western and Eastern culture with music everyone can enjoy. VCHA will debut on January 26, 2024, and they already predebuted once on September 22, 2023, with SeVit (NEW LIGHT), and a second time on December 1, 2023, with "Ready for the World." However, if you want to know how old the VCHA members are right now, here is the exact age and birthday for Camila Ribeaux Valdes, Lexus Vang (Lexi), Kendall Ebeling, Savanna Collins, KG Crown, and Kaylee Lee.
How Old VCHA Members Are: Each Age & Birthday
Camila is 18 years old and was born on August 10, 2005.
Lexi is 18 years old and was born on November 22, 2005.
Kendall is 17 years old and was born between June 1, 2006.
Savanna is 17 years old and was born on July 26, 2006.
KG is 16 years old and was born on June 17, 2007.
Kaylee is 14 years old and was born on November 24, 2009.
In turn, at the time VCHA predebuted in September 2023, Camila was 18, Lexi was 17, Kendall was 17, Savanna was 17, KG was 16, and Kaylee was 13. It is clear at a glance that Kaylee is the maknae of VCHA (meaning the "youngest member"), as she was only 12 years old when she originally auditioned for J.Y. Park back in September 2022! Indeed, predebuting at age 13 is incredibly rare, and besides Jieun in Young Posse, almost no idols fully debut at that age. Even Kaylee will ultimately make her full debut at age 14.
Meanwhile, Camila is the oldest member, and she was consistently a high-performer during the A2K series, even finishing first place in the rankings for the Los Angeles boot camp that occurred in fall 2022. However, it was Lexi who finished the overall A2K series in first place, and she is the official leader of VCHA.
Use this birth date visual aid to help learn exactly how old all of the VCHA members are: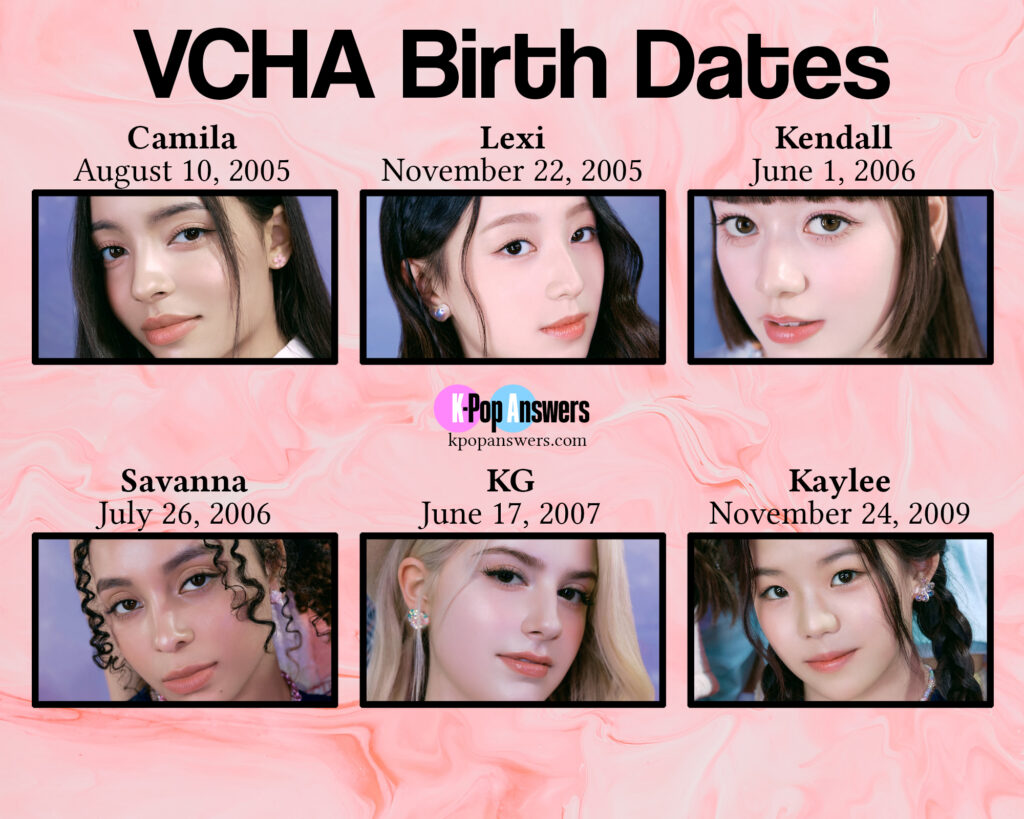 With age and birth date, that is everything you need to know about how old A2K members Camila, Lexi, Kendall, Savanna, KG, and Kaylee are. They are poised for a whole new type of success in the K-pop space. And it helps that VCHA speaks multiple languages, as we have detailed elsewhere!
If you're a bit newer to K-pop or to JYP groups (and if so — welcome!), then you can check out the ages of some other massively popular JYP girl groups, including the legendary Twice, English-speaking Itzy, vocally endowed NMIXX, or Japanese group NiziU. Or if you'd still like to learn more about VCHA, check out where all the VCHA members are originally from or what each member's MBTI is!