Co-producers DSP Media and Beats Entertainment originally revealed the Young Posse members in a particularly unusual way: by comparing them to food and appliances! Sunhye (정선혜) was a microwave. Yeonjung (위연정) was sauce. Jiana (지아나) was cheese. Doeun (도은) was salt. And Jieun (한지은) was milk. Collectively, they were the "key ingredients" for the Young Posse debut mini-album, Macaroni Cheese, released October 18, 2023. Combined with a hip, urban visual aesthetic, this is a group that has stood out from the beginning. To explain exactly how old the Young Posse members are right now, here is the current age and birthday for Sunhye, Yeonjung, Jiana, Doeun, and Jieun.
How Old Members Are: Each Young Posse Age and Birthday
Sunhye is 19 years old and was born on April 12, 2004.
Yeonjung is 19 years old and was born on September 1, 2004.
Jiana is 17 years old and was born on February 2, 2006.
Doeun is 15 years old and was born on December 24, 2007.
Jieun is 14 years old and was born on November 5, 2009.
DSP and Beats were not kidding when they came up with the name Young Posse, with Jieun being a 13-year-old maknae ("youngest member") at debut! The K-pop industry loves to debut idols at a young age, but usually, idols don't debut any younger than age 14, as seen with KARA's Jiyoung, IVE's Leeseo, and NewJeans' Hyein, for example. In 2023, the only female idol comparable in debut age to Jieun was Kaylee from VCHA, who predebuted at age 13.
Although, the rest of the members of Young Posse all debuted at comparatively normal ages. Sunhye is the oldest member of the group by nearly five months, and she is also the leader of Young Posse. It is further noteworthy that Doeun was born on Christmas Eve! That puts her in good company with H1-KEY's Yel, who was born on Christmas Day. Incidentally, Doeun joined the company just five months before Young Posse debuted.
The name "Young Posse" is intended to refer to a group of young teens coming together for a purpose. If we had to guess, that purpose is probably to make killer music! Use our birth date graphic to more quickly learn who the Young Posse members are and what their ages are: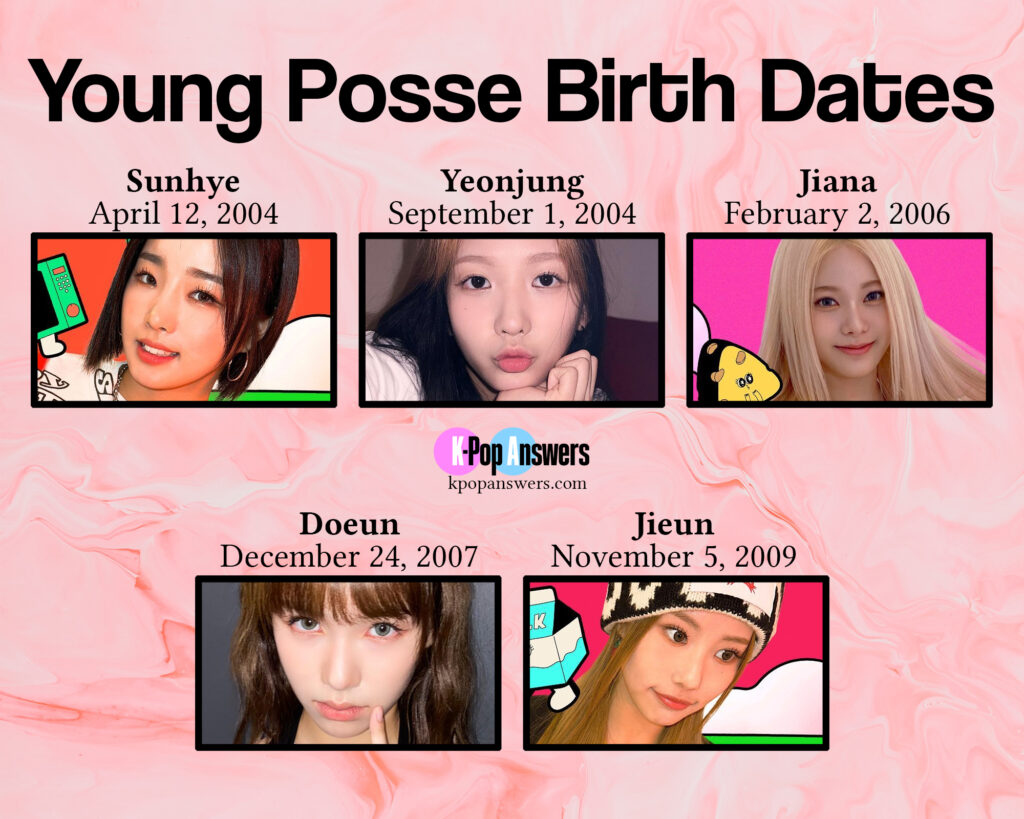 Armed with current age and birthday, that is all you need to know about how old Young Posse members Sunhye, Yeonjung, Jiana, Doeun, and Jieun are. They are definitely a fresh look for DSP! And for more about them, we also have the most current MBTI info for the Young Posse members.
For another group with a similar vibe to this one, perhaps you would like to check out how old the XG members are. Or for more iconic DSP groups, you can check out how old the KARA and KARD members are.