NewJeans is a K-pop girl group that explodes in popularity all over again with each new release, and one of the reasons for their instantly tremendous popularity is their youthful image. It's not just that the NewJeans members are young — though they are. Rather, it's that their company, ADOR, and its CEO and creative director, Min Hee-jin, have done a brilliant job of simply marketing the girls as girls. Because the NewJeans members feel like down-to-Earth people you could have known in high school, it becomes easier to relate to them. And because they also happen to be the coolest girls on Earth, they likewise feel like an aspiration for people their age or younger. NewJeans debuted on July 22, 2022 with the single "Attention" ahead of the release of their full debut EP, New Jeans, on August 1, 2022. But if you want to know how old the NewJeans members are today, here is the current age and birthday for Minji, Hanni, Danielle, Haerin, and Hyein.
How Old Are They: Age and Birthday for NewJeans Members Minji, Hanni, Danielle, Haerin, and Hyein
Minji is 19 years old and was born on May 7, 2004.
Hanni is 18 years old and was born on October 6, 2004.
Danielle is 18 years old and was born on April 11, 2005.
Haerin is 17 years old and was born on May 15, 2006.
Hyein is 15 years old and was born on April 21, 2008.
With this information in mind, when NewJeans debuted back in July 2022, they were the following ages: Minji was 18, Hanni was 17, Danielle was 17, Haerin was 16, and Hyein was 14. Minji is the oldest member of the group, but she is not the leader of the group for the simple reason that NewJeans has no leader or officially assigned positions. This is arguably another way that NewJeans breaks out of the usual mold of K-pop.
Meanwhile, Hyein is the maknae of NewJeans, meaning she is the youngest member. It is rare for a K-pop idol to debut any younger than the age of 14, though a few notable idols have debuted at age 14 in the fourth generation of K-pop, including Leeseo in IVE and (soon, presumably) Rora and Chiquita in BabyMonster. Of course, the K-pop industry has always skewed toward debuting idols at younger ages, and more than 40 idols have debuted at age 14 over the years. In any case, Hyein is highly popular like the rest of her members, with a good example being that she has been a brand ambassador for Louis Vuitton.
If you're new to these jeans, you can use this breakdown to help you learn everyone's names and better understand how old the NewJeans members are: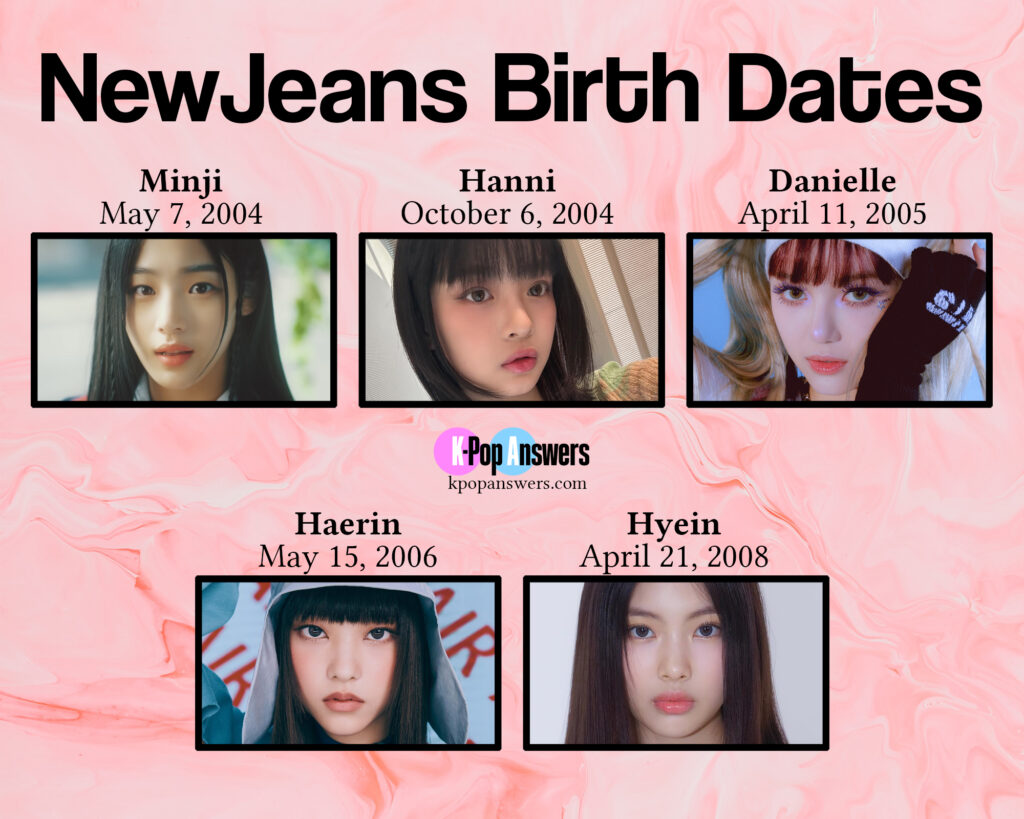 With current age, birthday, and a visual to bring that information altogether, this should demystify how old the NewJeans members are. On average, they're a few years younger than their HYBE sibling Le Sserafim, and they're a bit younger than Aespa at SM Entertainment as well. However, they're slightly older on average than the upcoming BabyMonster, who just might become NewJeans' biggest competition.
For more about NewJeans, check out what each member's MBTI is, or check out our archive of all of the NewJeans music videos and performance videos ever released.