They may have gotten off to a bit of a bumpy start, but Le Sserafim quickly became another leading girl group of the fourth generation of K-pop, alongside the likes of Aespa, IVE, and NewJeans. Following the disbanding of GFriend in May 2021, Le Sserafim debuted on May 2, 2022 as the only active group at label Source Music, owned by HYBE, and they began with the lead single "Fearless" on the mini-album of the same name. The group has members from South Korea, Japan, and the United States, which has made it easy to attract a diverse international fanbase. And if you want to know how old the current individual members of Le Sserafim are now, here is the age and birthday for Sakura, Kim Chaewon, Huh Yunjin, Kazuha, and Hong Eunchae.
How Old the Le Sserafim Members Are: Age and Birthday
Sakura is 25 years old and was born on March 19, 1998.
Chaewon is 23 years old and was born on August 1, 2000.
Yunjin is 21 years old and was born on October 8, 2001.
Kazuha is 20 years old and was born on August 9, 2003.
Eunchae is 16 years old and was born on November 10, 2006.
Additionally, former member Kim Garam was born on November 16, 2005. She officially left Le Sserafim on July 20, 2022.
With this information in mind, at the time that the group debuted in May 2022, there ages were as follows: Sakura was 24, Chaewon was 21, Yunjin was 20, Kazuha was 18, Eunchae was 15, and Garam was 16. Eunchae is the maknae ("youngest person in the group"), and she is Korean by nationality. Sakura is the oldest member of the group, and she, along with Kazuha, is Japanese in nationality. Yunjin is ethnically Korean but grew up in the United States. And finally, Chaewon is Korean by nationality and the leader of the group. She was chosen to be leader seemingly in part because of her witty personality.
Prior to debuting in Le Sserafim, Sakura had previously debuted in Japanese pop group HKT48 on March 4, 2012, when she was 13 years old. Sakura and Chaewon had also both previously debuted in the group Iz*One, which was created through the Mnet reality competition show Produce 48. Iz*One was active between October 29, 2018 and April 29, 2021, and Sakura and Chaewon were 20 and 18 years old respectively at the time Iz*One formed.
Naturally, it can be difficult to figure out which member is which in a K-pop group when you're just entering a fandom, so use this image to help you better understand how old the Le Sserafim members are.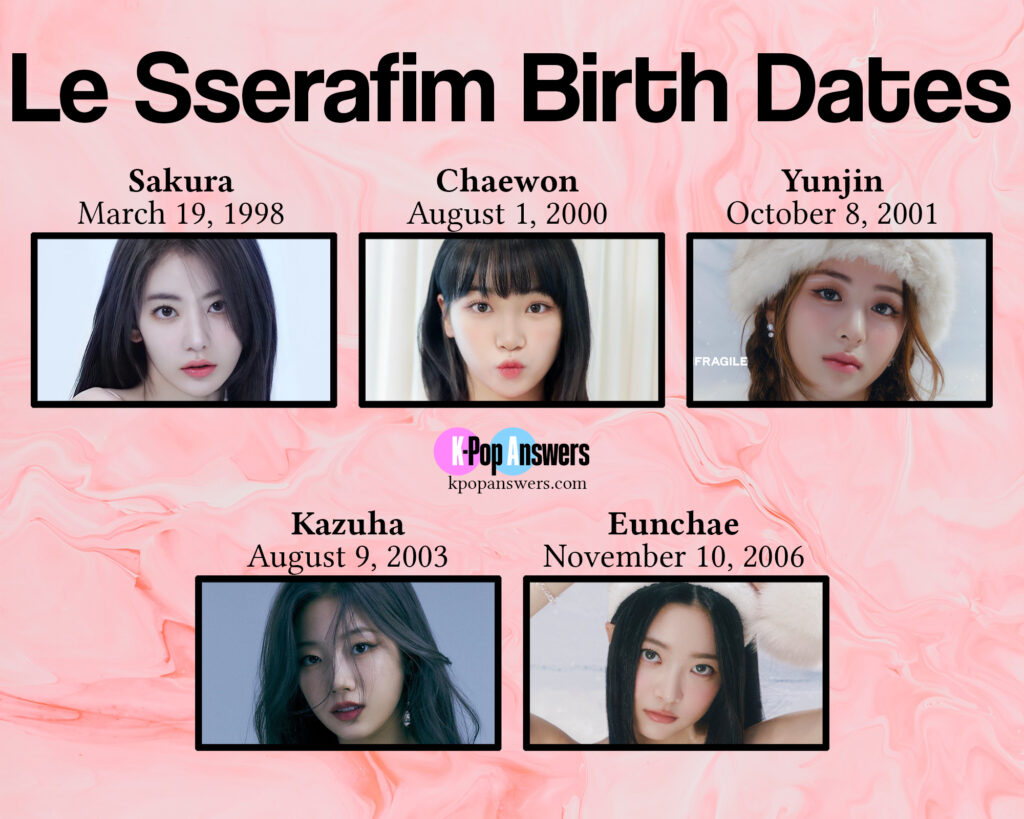 Now you know all the key details about how old the Le Sserafim members are, with birthday and their age today. As you can see, Sakura had quite the lengthy career in Japan before Le Sserafim had even begun, but this group is a force to be reckoned with together. For more about Le Sserafim, check out who in the group can speak English.
Next up, check out how old the NewJeans members are, their younger label mates at HYBE!