KARA is a K-pop group of many rebirths. It was originally a four-member group at DSP Media that debuted on March 29, 2007 with the album The First Bloooooming, but member Kim Sunghee departed the group after just that one album. KARA reformed as a five-member group, adding Goo Hara and Kang Jiyoung, and went on to have an explosively popular string of releases across several years in both South Korea and even Japan. When Nicole Jung and Kang Jiyoung decided to depart the group, DSP conducted 2014 reality TV competition KARA Project to find a new fourth member, Heo Youngji. And when KARA finally disbanded in 2016, it proved temporary, as Park Gyuri, Han Seungyeon, Nicole Jung, Kang Jiyoung, and Heo Youngji reunited in 2022 for a new album, Move Again. If you're wondering how old the KARA members are now, here is the age and birthday for Park Gyuri, Han Seungyeon, Nicole Jung, Kang Jiyoung, and Heo Youngji, as well as the age of Goo Hara at the time of her tragic passing.
Explaining How Old the KARA Members Are: Age and Birthday
Park Gyuri is 35 years old and was born on May 21, 1988.
Han Seungyeon is 35 years old and was born on July 24, 1988.
Nicole Jung is 32 years old and was born on October 7, 1991.
Kang Jiyoung is 29 years old and was born on January 18, 1994.
Heo Youngji is 29 years old and was born on August 30, 1994.
Goo Hara was born on January 3, 1991 and was 28 years old when she passed away on November 24, 2019.
Additionally, former member Kim Sunghee was born on May 17, 1989. She departed the group in 2008.
At the time that the original members of KARA debuted back in March 2007, their ages were as follows: Gyuri was 18, Seungyeon was 18, Sunghee was 17, and Nicole was 15. At the time that Hara and Jiyoung debuted on July 25, 2008 for mini-album Rock U, Hara was 17 and Jiyoung was 14. At the time that Youngji debuted (following winning KARA Project) on August 18, 2014 for mini-album Day & Night, she was 19 but turned 20 shortly afterward.
Gyuri has always been the oldest member of KARA and its extremely unique leader. For a large chunk of KARA's history, Jiyoung was the maknae of the group, meaning she was the youngest member. Youngji became the maknae when Nicole and Jiyoung departed. Once Nicole and Jiyoung rejoined the group, Jiyoung and Youngji effectively decided to "share" maknae status. Jiyoung and Youngji also became close friends at this point, using the joint nickname of "Jiyoungji."
The suicide of Hara in 2019 was absolutely devastating to fans and of course to the other KARA members as well, and Gyuri discussed in June 2022 how it impacted her mental health. Jiyoung placed the Move Again album at Hara's resting place in late 2022, a gesture to ensure she remains in the group and the fans' hearts.
If you're only belatedly joining Kamilia (the KARA fandom), firstly — welcome aboard! And secondly, you can use the visual aid below to help you learn who the KARA members are and how old they are.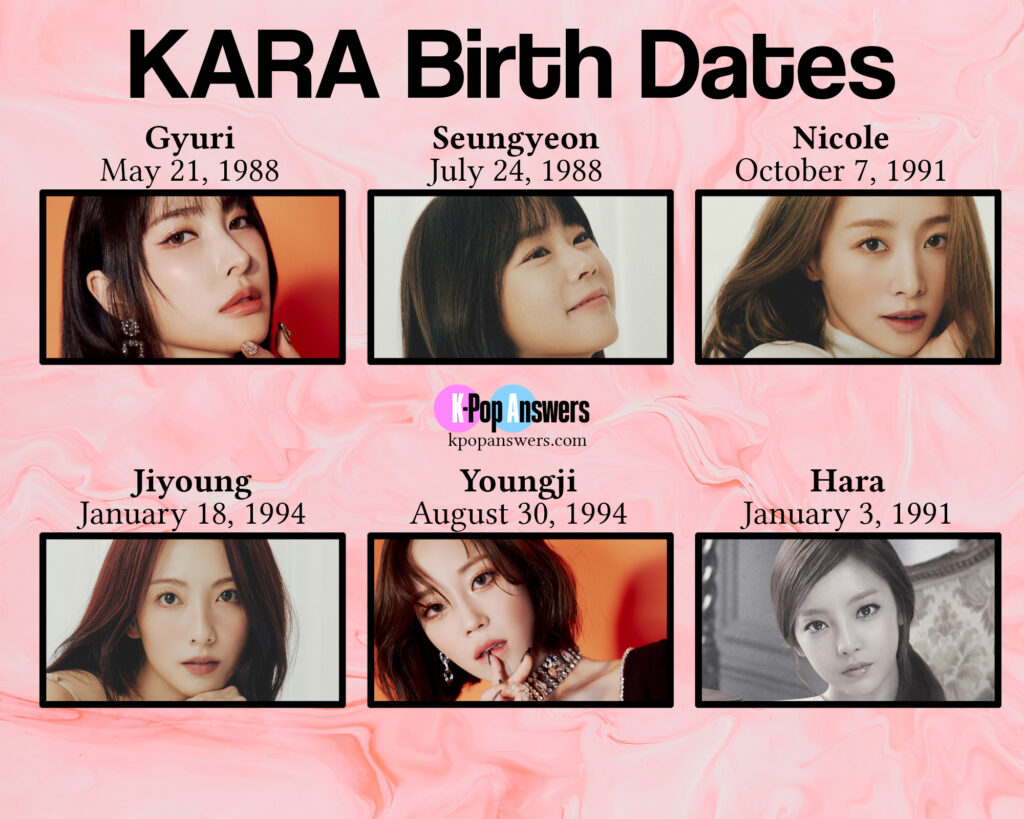 With current age, age at debut, and birthday for Gyuri, Seungyeon, Nicole, Jiyoung, and Youngji, that is everything you need to know about how old the KARA members are. KARA has one of the all-time great K-pop discographies, so even as the years pass on, it is our personal wish at K-Pop Answers that people will continue to discover and enjoy this group.
For more, check out how old the KARD members are, a similarly named co-ed DSP Media group. Youngji featured on their first song back in 2016! Or for another beloved second-generation group that overcame tragedy, check out how old the SHINee members are.