Co-ed groups have always been a rarity in the K-pop industry, and they will probably continue to be, for various reasons. That makes the success of co-ed group KARD at DSP Media all the more impressive and worth celebrating. The group has never really made the biggest splash domestically in South Korea, but internationally, they are a pretty awesome force, especially in Latin American countries. KARD officially debuted on July 19, 2017 with the song "Hola Hola" on the EP of the same name, but they started generating attention much sooner with their first predebut song, "Oh NaNa" (featuring Youngji), released on December 13, 2016. If you want to know how old the individual members of KARD are now, here is the age and birthday for BM, Somin, Jiwoo, and J.seph.
How Old Explained: Age and Birthday for Each of the KARD Members
J.seph is 31 years old and was born on June 21, 1992.
BM is 31 years old and was born on October 20, 1992.
Somin is 27 years old and was born on August 22, 1996.
Jiwoo is 27 years old and was born on October 4, 1996.
With this in mind, if we want to take a look at how old the members were back in December 2016 for the predebut song "Oh NaNa," their ages were as follows: J.seph was 24, BM was 24, Somin was 20, and Jiwoo was 20. It's fairly unusual for idols to debut at age 24 or older, since the industry typically prefers to debut idols at as young an age as possible. It shows how much faith DSP had in J.seph and BM though, and since J.seph completed his compulsory military service in April 2022, there is nothing impeding future promotions. (BM, being American by nationality, does not need to serve.)
Meanwhile, Jiwoo is the maknae ("youngest person in the group"), but she and Somin are pretty close in age. However, Somin had actually made two previous debuts at DSP prior to KARD. She first promoted in a group that only performed in Japan, called Puretty; that group debuted in September 2012 when she was 16 years old and officially disbanded in May 2014. Then she debuted again in the K-pop group April in August 2015, immediately after turning 19 years old. However, Somin departed that group soon after in November 2015, citing a desire to focus on her studies. In-between Puretty and April, she had also competed in KARA Project. (BM himself had featured in the music video for the late Goo Hara's "Choco Chip Cookies" in July 2015, in addition to rapping on her song "La La La.")
At any rate, if you could use help matching names with faces and birth dates among the KARD members, consult the visual aid below: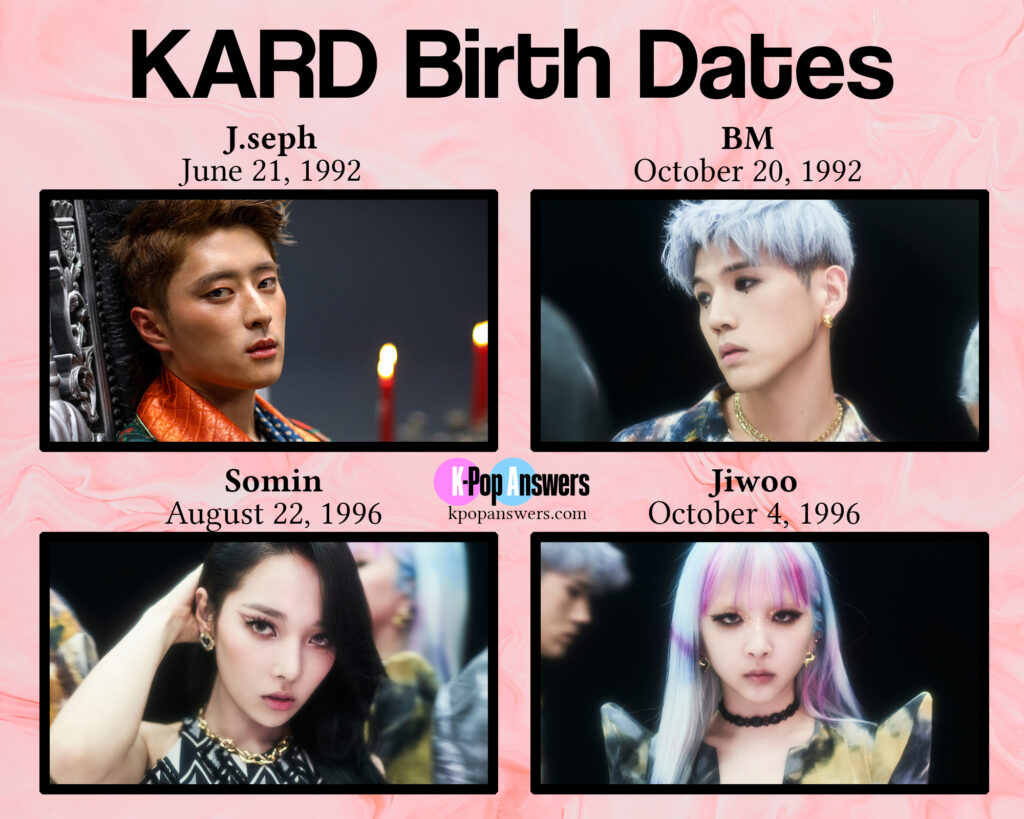 Between current age and birthday, that is everything you need to know about how old the members of KARD are. They are one of the older heavily active groups overall, especially compared to fresh-faced fourth-generation K-pop groups like NewJeans and IVE, but KARD have the passionate fanbase to easily support it.
For more, check out the trick-question answer to who the leader of KARD is, or check out who can speak English or Spanish in the group. Alternatively, check out how old the KARA members are, KARD's seniors at DSP, which include the aforementioned Youngji!