In all of K-pop, there are few groups as revered as SM Entertainment boy group SHINee. From the quality of their vocals and dancing, to their songwriting abilities, to even their impact on fashion, SHINee is an ideal to which other idols aspire. And despite the worst tragedy, the group perseveres, continuing to perform at a high level and with exceptional music, both together and individually. SHINee debuted on May 22, 2008 with the mini-album 누난 너무 예뻐 (Replay) — or they debuted on May 25, 2008, if you prefer to go by the date of their first official performance. Regardless, to learn how old the SHINee members are now, here is the current age and birthday for Onew, Key, Minho, and Taemin, as well as the birth date and age for Jonghyun prior to his tragic death.
How Old Explained: Age and Birthday for the SHINee Members
Onew is 33 years old and was born on December 14, 1989.
Key is 32 years old and was born on September 23, 1991.
Minho is 31 years old and was born on December 9, 1991.
Taemin is 30 years old and was born on July 18, 1993.
Jonghyun was born on April 8, 1990 and was 27 years old when he passed away on December 18, 2017.
Meanwhile, at the time that the group debuted way back in May 2008, the members were the following ages: Onew was 18, Jonghyun was 18, Key was 16, Minho was 16, and Taemin was 14. If that feels like it was a long time ago, you are not alone in that feeling: The SHINee members themselves seemed to feel similarly when they reviewed their careers in an entertaining ODG video published in March 2021. (Of course, even more time has passed since then.)
Taemin is the maknae of SHINee, meaning he is the youngest member. He is of comparable age to KARA's Jiyoung, who debuted around the same time also at age 14. Onew then is the oldest member of SHINee and also its leader. Jonghyun was the second oldest member of the group, but his suicide in December 2017 stunned the K-pop industry and devastated family, friends, and fans across the world. His family founded the Shiny Foundation in his memory in September 2018 to support struggling artists.
If you are only now discovering the group and becoming a Shawol (the fandom's name), you can use our visual aid to better learn who the SHINee members are and how old they are: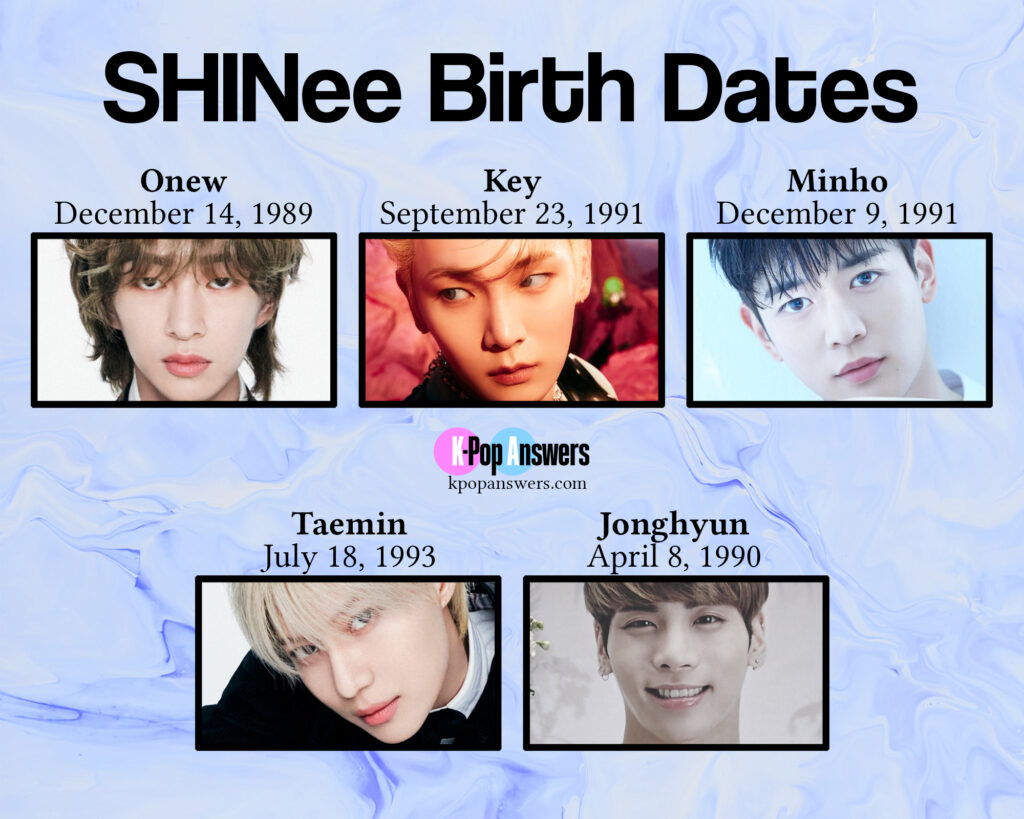 With current age, age at debut, and birthday, that is all there is to know about how old SHINee members Onew, Key, Minho, and Taemin are, and may Jonghyun rest in peace. Past, present, and future, SHINee will always be a cornerstone of SM Entertainment.
For another beloved second-generation K-pop group (who also faced frustrating tragedy), you might like to see how old the KARA members currently are. Or for a distant descendant of SHINee at SM, you might like to check out how old the RIIZE members are.