The K-pop industry typically likes to get idols started at as young an age as possible, as seen in the likes of BabyMonster and NewJeans. With some exceptions, such as in hugely popular "Big 4" company groups, idols who are entering their 30s are often gently set aside — not forgotten, but certainly not given the spotlight either. Of course, this is silly for any number of reasons, not least of which is that people in their 30s and beyond listen to K-pop too, and they appreciate seeing performers their own age. As such, mature K-pop girl group BBGirls is a breath of fresh air at Warner Music Korea, being a reborn version of the final Brave Girls lineup that existed at Brave Entertainment. Brave Girls disbanded on February 16, 2023, and members Minyoung, Yujeong, Eunji, and Yuna redebuted as BBGirls on August 3, 2023 with One More Time. So here is how old the BBGirls / Brave Girls members are today, with current age and birthday for Minyoung, Yujeong, Eunji, and Yuna.
How Old Explained: Age & Birthday for BBGirls (Brave Girls) Members
Minyoung is 33 years old and was born on September 12, 1990.
Yujeong is 32 years old and was born on May 2, 1991.
Eunji is 31 years old and was born on July 19, 1992.
Yuna is 30 years old and was born on April 6, 1993.
Incidentally, none of these girls were in the original Brave Girls lineup, who debuted back in 2011. Rather, they all joined Brave Girls for a new group lineup that began on February 16, 2016 with the release of the single, "Deepened." Back on that date, the girls were the following ages: Minyoung was 25, Yujeong was 24, Eunji was 23, and Yuna was 22. Even 23 is a relatively late age at which to debut (though Red Velvet's Irene and Mamamoo's Solar notably debuted at that age), so it is commendable that Brave Entertainment and founder Brave Brothers saw the potential in these members.
Yuna is the maknae of BBGirls, meaning she is the youngest member. Minyoung is the oldest member and also the leader, as she was for the final Brave Girls lineup. If you are new to BBGirls and/or the final Brave Girls lineup, use this birth date graphic to learn who is who and match up how old the members are.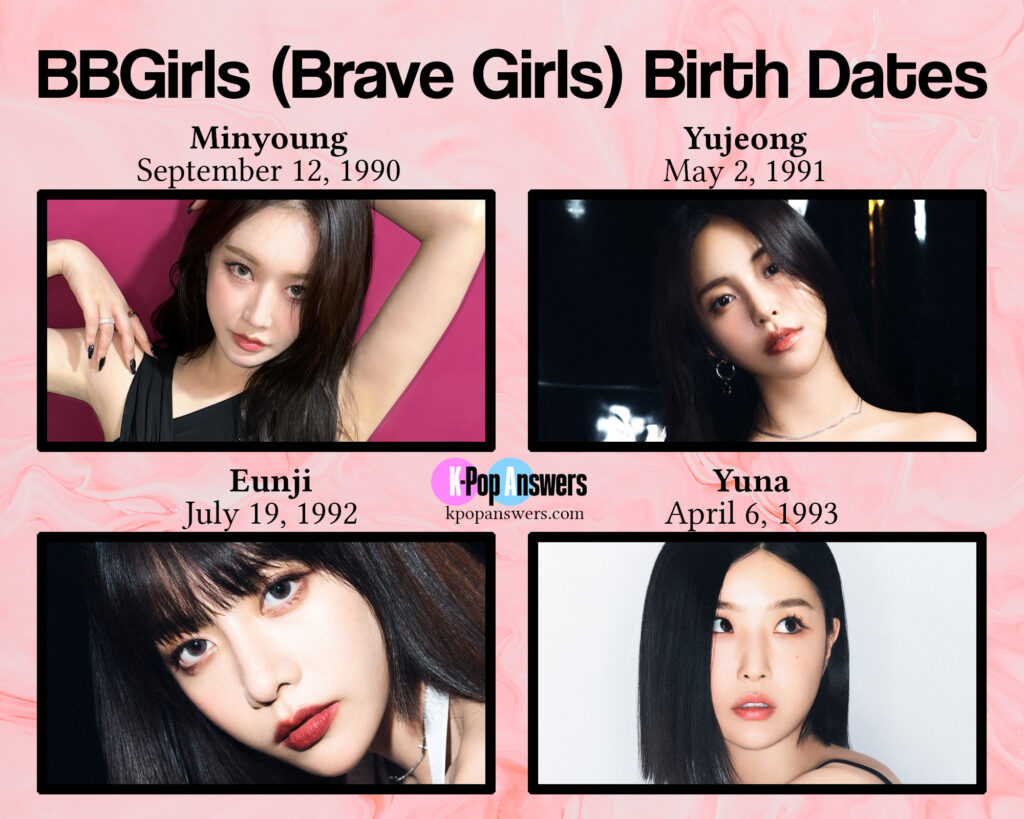 When it comes to current age and birthday for BBGirls and the final Brave Girls lineup, that is everything you need to know about how old Minyoung, Yujeong, Eunji, and Yuna are. They are talented, beautiful, and thriving regardless of age. (And we at K-Pop Answers are personally fans, as we have seen them perform and briefly met them.)
For another beloved older K-pop girl group that made a big comeback, check out how old the KARA members are.