Grandline Group, or GLG, is not one of the most well-known companies in K-pop. In fact, as a younger company, it's arguably not especially well known in general at the current time. Having little brand recognition creates a steep hill to climb in as competitive a space as the K-pop industry, yet there are great examples of those that have overcome this challenge, such as ATTRAKT with Fifty Fifty. And GLG is proving to be the same with its first girl group, H1-KEY (pronounced "Hi-Key"), who have found acclaim for catchy songs like "Rose Blossom." H1-KEY debuted on January 5, 2022 with the single album Athletic Girl, and despite an early lineup change, the group has only risen in popularity since. To learn how old the H1-KEY members are today, here is the current age and birthday for Seoi, Riina, Yel, & Hwiseo (plus the birth date of former member Sitala).
How Old Explained: Current Age and Birthday for H1-KEY Members Seoi, Riina, Hwiseo, & Yel
Seoi is 23 years old and was born on February 12, 2000.
Riina is 22 years old and was born on February 21, 2001.
Hwiseo is 21 years old and was born on July 31, 2002.
Yel is 18 years old and was born on December 25, 2004.
Former member Sitala was born on April 23, 1996. She departed H1-KEY for "personal reasons" on May 25, 2022.
At the time that H1-KEY debuted back in January 2022, their ages were as follows: Sitala was 25, Seoi was 21, Riina was 20, and Yel was 17. Hwiseo was introduced as a new member of H1-KEY on June 14, 2022 and first participated on maxi single album Run, which released on July 6, 2022 when she was narrowly still 19 years old. Sitala was the oldest member of the group by a significant margin for the brief time she was part of H1-KEY, but Seoi became the oldest member after she departed. Seoi is also the leader of H1-KEY. Meanwhile, Yel is the maknae, meaning she is the youngest member of the group. However, it's clearly Yel who has the most interesting birthday, having been born on Christmas!
It's a lot easier to learn the names and faces for a four-member group like H1-KEY than it is for a group like Twice or Seventeen, but nonetheless, you can use this birth date graphic to better digest how old the members are.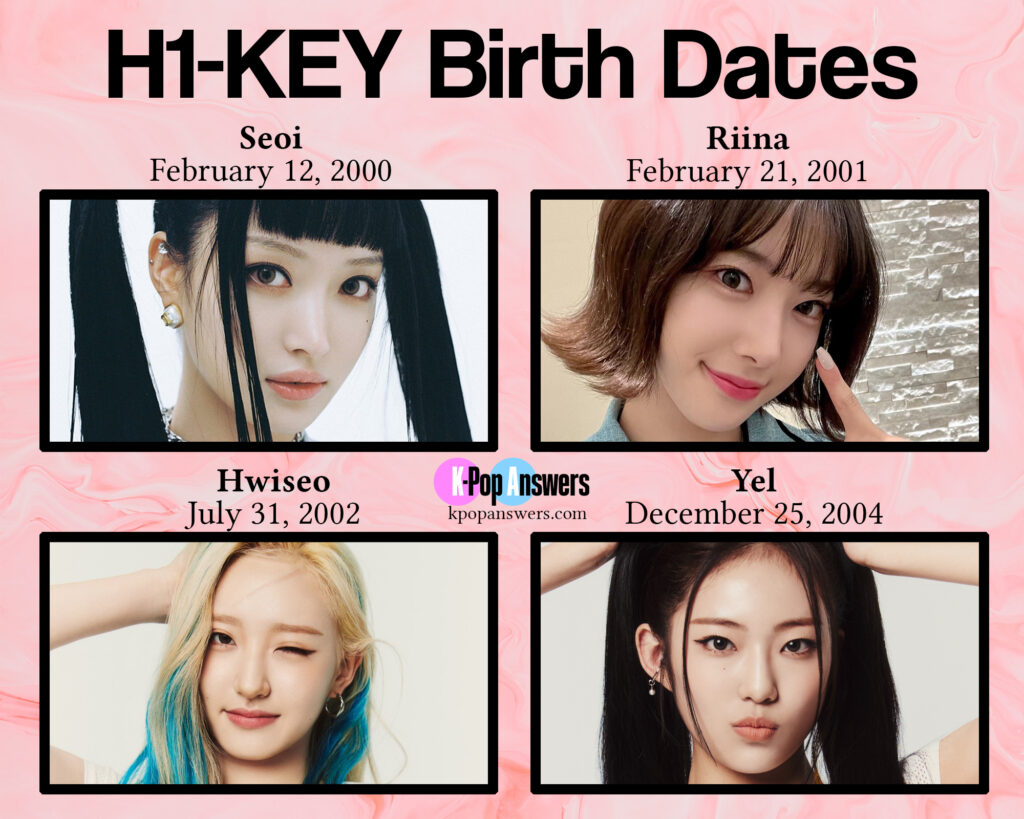 With current age, age at debut, and birthday, that is everything you need to know about how old H1-KEY members Seoi, Riina, Yel, & Hwiseo are. It's always extremely exciting to watch a group from a small label thrive, and fans will do what they can to keep supporting H1-Key's growth and success.
For another success story from a small company, check out how old the Fifty Fifty members are.