In K-pop, it's just taken for granted that every idol is going to be a great dancer and probably pretty attractive too. However, in all honesty, the likelihood that a given idol will be a skilled singer too is not as guaranteed. And that's alright, of course. Not every idol needs to be a powerhouse singer in order to be a skilled and beloved entertainer. But don't tell that to RBW girl group Mamamoo. Ever since Mamamoo debuted on June 18, 2014 with the mini-album Hello and the lead single "Mr. Ambiguous," they have been far and away one of the most powerful vocal groups ever assembled in K-pop. Each member is so skilled that they have all gone on to enjoy varying degrees of solo success as well. So here, we will explain how old the Mamamoo members are today, including current age and birthday for Solar, Moonbyul, Wheein, and Hwasa.
How Old Explained: Age and Birthday for Mamamoo Members Solar, Moonbyul, Wheein, & Hwasa
Solar is 32 years old and was born on February 21, 1991.
Moonbyul is 30 years old and was born on December 22, 1992.
Wheein is 28 years old and was born on April 17, 1995.
Hwasa is 28 years old and was born on July 23, 1995.
Meanwhile, back when Mamamoo debuted in June 2014, they were the following ages: Solar was 23, Moonbyul was 21, Wheein was 19, and Hwasa was 18. That makes Hwasa the maknae, meaning she is the youngest member of the group, though she is often regarded as the most sultry member. Solar then is both the oldest member and the leader of the group.
Of the four members, Solar, Wheein, and Hwasa are all highly regarded as top-caliber K-pop vocalists. Moonbyul too is a competent singer and in fact originally trained as a vocalist, but she was asked to become a rapper for debut, which originally caused her stress. Fortunately, she proved highly talented at it, and Moonbyul is celebrated for her rapping skills in addition to her singing.
To learn who is who in Mamamoo and better match names, faces, and ages, consult this birth date graphic: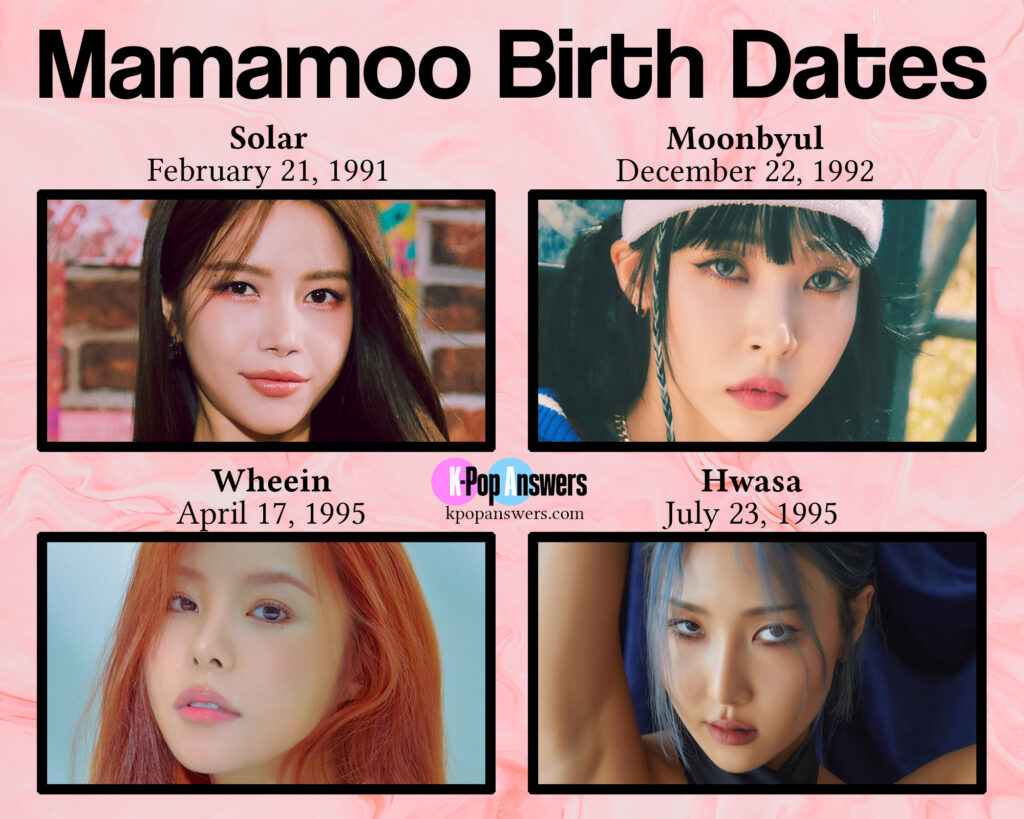 With age at debut, current age now, and birthdays, that is everything you need to know about how old Mamamoo members Solar, Moonbyul, Wheein, and Hwasa are. They are a group that truly shows what is possible when everyone is a total ace on the microphone!
For more majorly popular third-generation K-pop girl groups, check out how old the Red Velvet or Blackpink members are.