With the 2023 survival competition The Debut: Dream Academy, HYBE and Geffen Records sought out and trained some of the most promising girl idol trainees from around the world, and then those trainees fought for their positions in a brand new global girl group. (We have a full series summary of The Debut: Dream Academy, if you missed out!) After the final scores were tallied and the dust settled, Katseye was born. Katseye will likely debut in the first half of 2024. To learn how old the Katseye members are right now, here is the current age and birthday for Manon Bannerman, Sophia Laforteza, Daniela Avanzini, Lara Rajagopalan, Megan Skiendiel, and Yoonchae Jeong.
How Old the Katseye Members Each Are: Current Age & Birthday
Manon is 21 years old and was born on June 26, 2002.
Sophia is 20 years old and was born on December 31, 2002.
Daniela is 19 years old and was born on July 1, 2004.
Lara is 18 years old and was born on November 3, 2005.
Megan is 17 years old and was born on February 10, 2006.
Yoonchae is 16 years old and was born on December 6, 2007.
As you can see, Yoonchae is the youngest member of Katseye, meaning she is the maknae (if we want to keep using the Korean term). However, everyone in the group is debuting in a very typical age range, at least according to the standards of K-pop. In fact, Katseye will have a slightly higher average age at debut than most K-pop groups, with the exception of Yoonchae.
Meanwhile, Manon is the oldest member of Katseye, but it is not yet clear if she is the leader of the group. Sophia currently seems slightly more likely to be the leader of Katseye, if the group has a leader at all. Also, by bizarre coincidence, two members of Katseye were born on the exact same day as two members of WHIB!
Use our birth date visual aid to better understand who the Katseye members are and how old they are: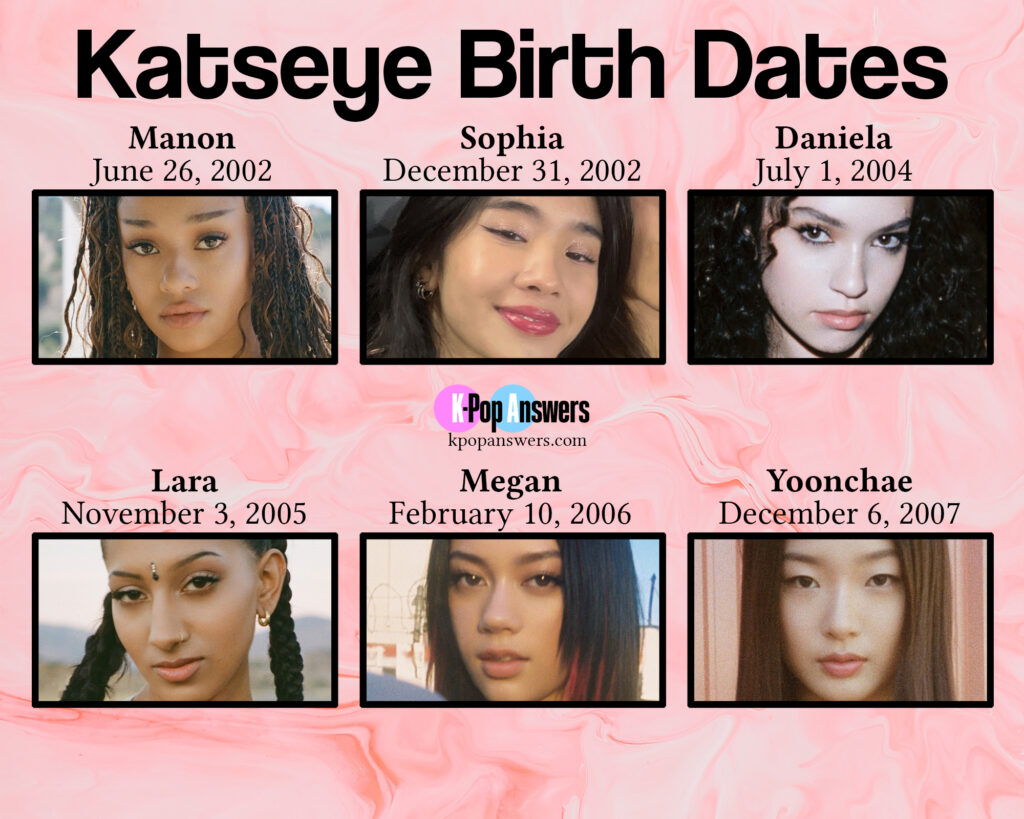 With current age and birthday, that is all there is to know about how old Katseye members Manon, Sophia, Daniela, Lara, Megan, and Yoonchae are. It will be fascinating to see how far these girls can soar together, as the first global girl group from HYBE and Geffen. For more about the group, check out the current MBTI for each of the Katseye members or where each of the members is originally from.
Notably, they are not the only international girl group to be created by a major K-pop company in 2023: JYP Entertainment created the group VCHA, who will also debut in 2024. You can check out how old the VCHA members currently are next. (They're a little younger than Katseye!)