If you want to make a splash with your introduction to the K-pop industry, you have to go big. FNC Entertainment went extra big with introducing K-pop boy group P1Harmony when it released a full-blown movie involving multiple timelines, superpowers, and a deadly virus, called P1H: The Beginning of a New World. Was the movie good? Well, you can read our full P1H plot synopsis to find out! P1Harmony then officially debuted on October 28, 2020 with the mini-album Disharmony : Stand Out and the lead song "Siren." To learn how old the P1Harmony members are right now, here is the current age and birthday for Theo, Keeho, Jiung, Intak, Soul, and Jongseob.
How Old Explained: Age & Birthday for the P1Harmony Members
Theo is 22 years old and was born on July 1, 2001.
Keeho is 22 years old and was born on September 27, 2001.
Jiung is 22 years old and was born on October 7, 2001.
Intak is 20 years old and was born on August 31, 2003.
Soul is 18 years old and was born on February 1, 2005.
Jongseob is 18 years old and was born on November 19, 2005.
Likewise, at the time the group debuted in October 2020, the members were the following ages: Theo was 19, Keeho was 19, Jiung was recently 19, Intak was 17, Soul was 15, and Jongseob was 14. That makes Jongseob the maknae of P1Harmony, meaning he is the youngest member. As we often note, age 14 is usually the youngest age at which a K-pop idol will debut, and it's a group that includes the likes of KARA's Jiyoung, Loona's Yeojin, NewJeans' Hyein, and Fantasy Boys' Gyurae and Kaedan. However, Jongseob actually trained the longest out of any of his members. In fact, Jongseob had won the series KPop Star 6 back in April 2017 at age 11, at which point he became a YG Entertainment trainee for a time.
Meanwhile, Theo is the oldest member of P1Harmony, but it is the next oldest member, Keeho, who is the leader of the group. Incidentally, Keeho grew up in Canada and thus speaks native English. He achieved a dream of performing in his hometown of Toronto with P1Harmony on July 12, 2023.
If you are new to the P1ece fandom, use our birth date image to better understand who is who among the P1Harmony members and how old they are: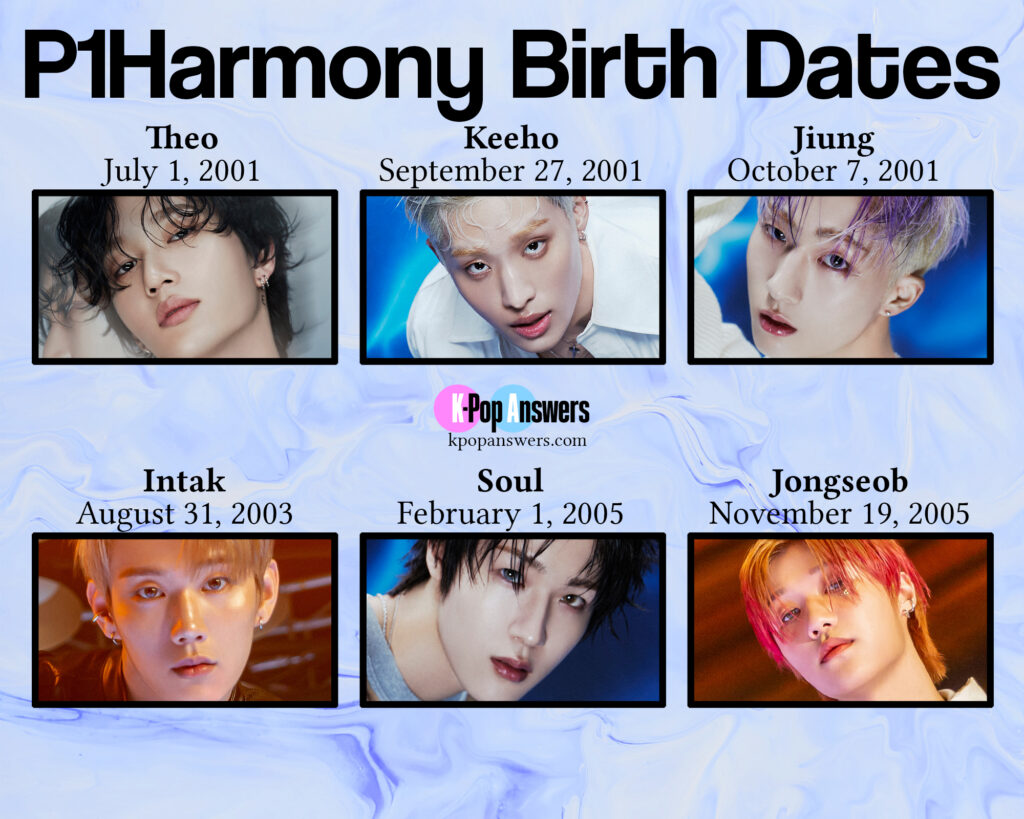 Armed with birth date, current age, and age at debut, that is everything there is to know about how old P1Harmony members Theo, Keeho, Jiung, Intak, Soul, and Jongseob are. They are surely a beloved group in the FNC portfolio.
For more about the group, check out who speaks fluent English in P1Harmony. Or for another hot boy group that originally debuted in 2020, check out how old the Treasure members currently are. (Jongseob was actually featured in YG Treasure Box, the series that created Treasure!)