Long-anticipated YG Entertainment K-pop girl group BabyMonster will debut in November 2023, but who will debut in that group was recorded in a YouTube documentary series called Last Evaluation. BabyMonster had seven member candidates, and in order of age, they are Ruka from Japan, Pharita from Thailand, Asa from Japan, Ahyeon from South Korea, Haram from South Korea, Rora from South Korea, and Chiquita from Thailand. (They are quite international in where they are from.) Last Evaluation saw executive producer Yang Hyun-suk testing the seven BabyMonster member candidates with both solo and group vocal and dance performances, and much of the "YG Family" of staff and artists participate in critiquing and scoring the candidates. Yang Hyun-suk had claimed (initially) that not all seven members would debut, making it a critical juncture for the candidates. If you have not watched the series or if you could use a refresher on the events of each episode, then we have prepared a precise summary of every episode of BabyMonster Last Evaluation, which includes episodes 1, 2, 3, 4, 5, 6, 7, 8, and the conclusion announcing the final member lineup.
BabyMonster Last Evaluation Episode Summary Guide
Episode 1: Pharita, Ahyeon, and Ruka Sing "Gone"
Last Evaluation Episode 1, aired March 10, 2023 KST: Yang Hyun-suk declared to the BabyMonster member candidates that he had not yet decided how many members the final lineup of the group would contain. Then the candidates were split up into two groups for a team vocal mission. Team A consisted of Pharita, Ahyeon, and Ruka, who were happy to be together because of their existing closeness. YG producer Choice37 gave them their mission, which was to sing "Gone" from Blackpink member Rosé. A rap section was also added to the song to give Ruka a space to perform.
During the recording of their "Gone" cover, the producers decided it would be best if Ahyeon took some of Pharita's lines during the chorus in order to make for a smoother live performance in the limited amount of time they had to practice, which disappointed Pharita. However, at a later practice, Blackpink member Jennie praised Pharita for standing out the most with her vocals. She also found that Ahyeon has the "most talent." Then she reminded Ruka that a rapper needs confidence, so Ruka asked her for advice about how to overcome nerves before a performance.
Pharita, Ahyeon, and Ruka continued practicing "Gone," but they had some pain in their throats from practicing so much. Ruka also went to Pharita for help with English pronunciation for her rap. Episode 1 of BabyMonster Last Evaluation ended with Team A preparing to perform for Yang Hyun-suk and other YG staff and senior artists, which concludes this summary.
Additionally, in the behind-the-scenes clip accompanying Last Evaluation Episode 1, Ruka and Pharita surprised Ahyeon with a cake and some little gifts for her birthday.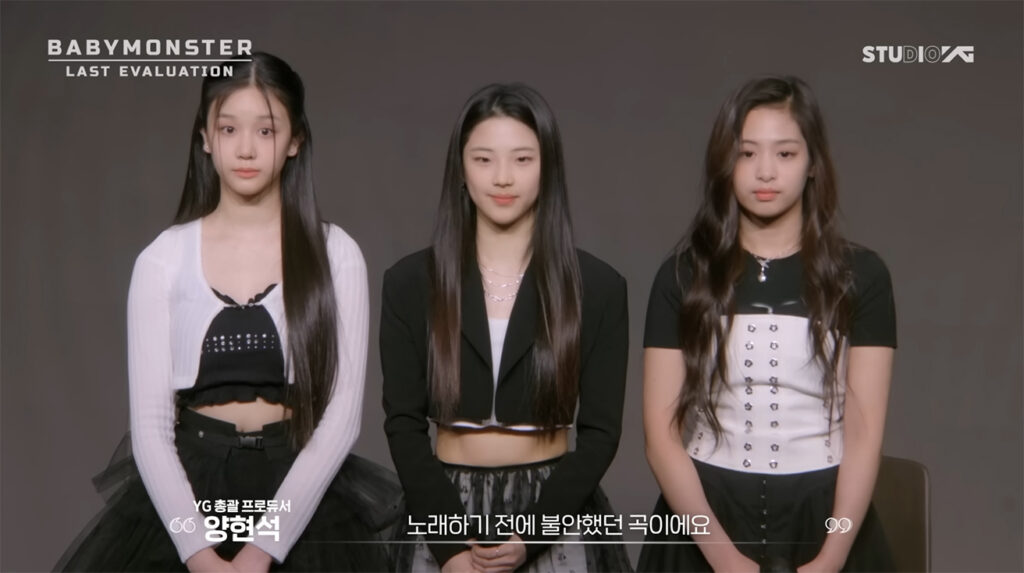 Episode 2: Haram, Asa, Chiquita, and Rora Sing "Stay"
Last Evaluation Episode 2, aired March 17, 2023 KST: Pharita, Ahyeon, and Ruka successfully performed "Gone." Hoony of Winner cited Pharita as having a "relaxed vibe" that gave him "goosebumps." Yoon of Winner praised their facial expressions and acting. Lee Suhyun of AKMU praised Ahyeon for supporting the other girls' melody on the song and essentially not trying to steal the spotlight.
After that, the episode segued backward in time to showcase BabyMonster Team B, Haram, Asa, Chiquita, and Rora, whom producer Choice37 revealed would be singing "Stay" from Blackpink. The team divvied up vocal parts, and Haram, Asa, and Rora helped Chiquita understand the Korean lyrics, because Chiquita has not been in South Korea for very long and had been doing English songs for her evaluations. Asa, despite being Japanese, was praised by Chiquita and Rora for her great Korean, and this was further shown in a brief look at her time practicing with her Korean speech trainer. Although, even Asa struggled to master her complex rap section.
Lee Suhyun observed a Team B practice of "Stay," and Haram sought advice about how they can express the song's feelings of love and breaking up authentically since they have not experienced such things themselves.
Jennie from Blackpink then observed a separate practice of "Stay," and she said they had a refreshing energy that makes people feel good. Jennie praised Asa's tone, confidence, and eye contact and called her the "most attractive" as a result, and she praised Chiquita and Haram's vocals as well. However, as criticism, Jennie noted that they looked at the practice room mirror more than at her during their performance. After Jennie departed, Rora cried because she had previously compared herself to others frequently, but Jennie's comments put into perspective that she could accomplish what she wanted to do.
In the behind-the-scenes clip accompanying Last Evaluation Episode 2, the BabyMonster member candidates goofed around waking each other up in the morning, then cleaned up their dorm together.
Episode 3: The First BabyMonster Group Dance Challenge
Last Evaluation Episode 3, aired March 24, 2023 KST: Haram, Asa, Chiquita, and Rora performed "Stay" to Yang Hyun-suk and the other YG staff and senior artists. Lee Suhyun of AKMU said their performance "wasn't the best" because she got the impression they walked out on stage seeming "tired or something." Yoon of Winner called their singing "perfect" but felt their visual performance was "stiff" and "predictable," resulting in an underwhelming performance. Producer Choice37 praised Chiquita's "look" that can draw people in and thought everyone performed well.
The next challenge for the BabyMonster member candidates was a dance challenge for the Blackpink song "Don't Know What to Do." They also recorded a version of the song with their own voices to be able to dance to that version. Yang Hyun-suk watched one of their dance practices and critiqued some aspects, and he noted that Haram's posture was not quite correct for a particular action. Haram cried after he departed as a result, seemingly due to stress rather than any severity from Yang.
Lisa from Blackpink watched a subsequent "Don't Know What to Do" dance practice, and she said they performed well but there was no "strength control in their movements." She proceeded to give several useful critiques and recommendations, including slightly altering their choreography.
Episode 4: BabyMonster Candidates Are Ranked Best to Worst
Last Evaluation Episode 4, aired March 31, 2023 KST: The BabyMonster candidates successfully performed as a seven-member group for the first time with "Don't Know What to Do" for the panel of Yang Hyun-suk and other YG staff and artists ("YG Family"). Suhyun of AKMU praised everyone but cited Chiquita, Rora, and Ahyeon particularly, and she found Chiquita's posture to be especially unique and strong. Yoon of Winner praised their tremendous growth as performers and praised their facial expressions, as this was their first time lip syncing in a performance. After it was over, Haram cried from a mix of emotions for completing a difficult mission.
Afterward, in private, YG Family graded the candidates' mission performance individually and discussed it among themselves. Suhyun called Haram's skills her charm. Yoon praised Ahyeon's singing on "Gone." Hoony scored Pharita as first place for her self-assuredness in all aspects of performance. Deukie of YGX praised her movements too. YG dance trainer Eunchong and YG producer Bigtone praised Chiquita's presence and dramatic growth rate in her short time at YG. One staffer called her "the real BabyMonster."
Ultimately, upon tallying YG Family's scores, the top three rankings were revealed to be as follows: 1) Ahyeon, 2) Chiquita, 3) Pharita. The other four placements were kept a mystery to viewers.
Afterward, Yang Hyun-suk told the BabyMonster members that they had been scored and ranked from 1st to 7th, but he refrained from revealing their scores so as not to hurt their confidence for future assessments. However, he then declared that "someone will definitely be eliminated," and "BabyMonster will definitely not be a seven-member group."
Following that, he revealed the BabyMonster member candidates would next do a solo song mission. The candidates subsequently spent time selecting their individual songs, and during a practice "mid-check for song selections," Yang Hyun-suk made a surprise appearance to listen to their voices as an "audio test" and evaluate their song choices. Based on just their vocal performance, he ranked the candidates as follows: 1) Pharita and Chiquita (tie, at 97 points), 3) Rora, 4) Ahyeon, 5) Haram, 6) Ruka and Asa (tie). (No other point scores were revealed besides for first place.) The members used this feedback to prepare for the true performance evaluation to come.
In a behind-the-scenes clip following Last Evaluation Episode 4, the BabyMonster member candidates went on a surprise trip to Lotte World, a popular amusement park, and that wraps up this summary.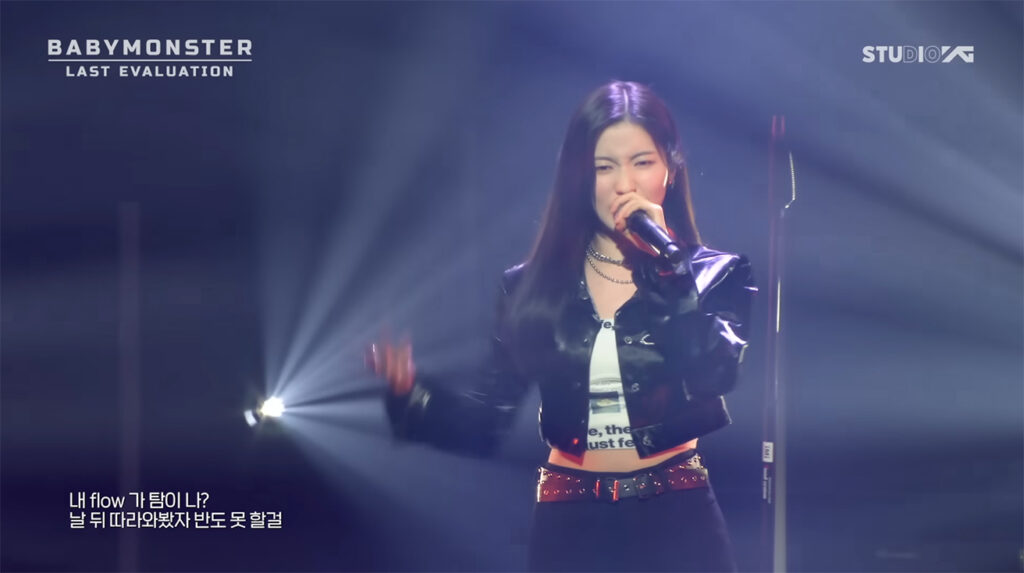 Episode 5: Solo Song Performances for Pharita, Rora, and Asa
Last Evaluation Episode 5, aired on April 7, 2023 KST: For her solo song, Pharita sang "All of Me" by John Legend. Yang Hyun-suk listened to half of the song with his eyes closed, enjoying her voice. Yoon of Winner said he feels at peace when listening to her voice.
Rora selected "Someone You Loved" by Lewis Capaldi to sing, because it is one of her favorite songs and could showcase a depth of emotion. YG producer Sonny said she performed it "perfectly" and that it did not remind him of the original song. YG dance trainer Leejung said as praise that it sounded as if Rora had just gone through a breakup.
Asa chose to perform the song "Me, Myself & I" by G-Eazy and Bebe Rexha because it allowed her to showcase both rapping and singing, as she had only shown fast and intense rapping for monthly evaluations to that point. She did the rap parts in Korean that she had written herself though, notable because she is Japanese and had learned Korean during training. Yoon from Winner strongly praised her singing ability and her high notes, as well as her lyric-writing ability. Dowoo of YGX commented that Asa's "4+" years of training after coming to Korea were not a waste of time.
Chiquita chose "traitor" by Olivia Rodrigo to perform because she liked the melody and the meaning. However, she tested positive for COVID-19 ahead of her last evaluation after noticing throat pain, which interfered with her time to practice the song, making her nervous.
In a behind-the-scenes clip following Last Evaluation Episode 5, the BabyMonster member candidates went shopping and then shared a meal of Chuseok-like foods together. (Chuseok is, essentially, Korean Thanksgiving.)
Episode 6: Solo Song Performances for Chiquita, Ruka, and Haram
Last Evaluation Episode 6, aired April 14, 2023 KST: Chiquita performed "traitor" for YG Family. Hoony of Winter was amazed with her consistent rate of growth as a performer. Yoon of Winner agreed, saying she just sounded "like a singer now" instead of a trainee.
Ruka took time selecting a song to perform, at first choosing "Astronaut in the Ocean" by Masked Wolf and then switching to "MTBD" by CL, but Ruka added her own new lyrics to "MTBD." Yang Hyun-suk and staff seemed to agree that Ruka is "really cool" as a performer, and she has charisma when rapping and dancing.
Haram chose "Pick Up Your Feelings" by Jazmine Sullivan, believing it would let the tone of her voice "come to life," and she wrote her own bridge lyrics and melody, though it was difficult to memorize. Hoony said she "absolutely killed it" with the quality of her performance. YG producer DEE.P said it was so good that it did not sound like a trainee's stage. Yang Hyun-suk noted that it would probably be "very difficult for singers to sing" what she had done.
Ahyeon chose "I Did It" by DJ Khaled, but it was revealed that, during the "audio test" in episode 4, Yang Hyun-suk had told her that he felt it was the wrong song choice because she attempted to show too many things in it. After talking with producers, Ahyeon changed her song choice to "Dangerously" by Charlie Puth, saying it was a song genre she had never tried before that would demonstrate a new side of herself.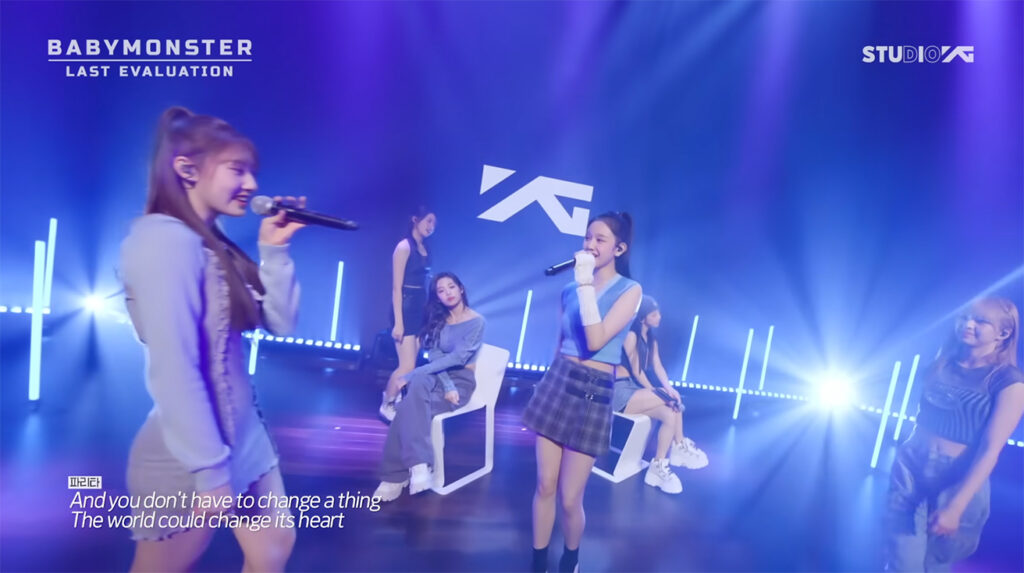 Episode 7: The Final Mission and Evaluation Begin in Earnest for BabyMonster
Last Evaluation Episode 7, aired April 21, 2023 KST: Ahyeon performed "Dangerously" for YG Family. Yoon of Winner said watching her feels like a "strength show of a person's voice," and Hoony of Winner said he thought Ahyeon had received a different mic due to the volume of her voice. Mood Dok of YGX felt Ahyeon truly embodied the name "BabyMonster." Yang Hyun-suk praised her for not seeming nervous despite performing last.
The BabyMonster member candidates next received a group vocal mission, which would be their first time singing as a seven-member group. Each candidate selected five of their own songs to recommend to the rest of the group, and then they voted. They ultimately selected "Scars to Your Beautiful" by Alessia Cara, and the group had a surprisingly agreeable time of deciding how to divide up each of the singing parts.
However, they faced difficulty in building "chords" together with their voices to harmonize. Rora noted that Haram and Ahyeon led the most in correcting everyone's tune. Ahyeon particularly coached Chiquita in tuning her voice, and in general, Ahyeon came across as a leader.
The BabyMonster member candidates ultimately performed "Scars to Your Beautiful" together for YG Family. Lee Chanhyuk of AKMU said that, without exaggerating, it felt as if he were watching the finale of a music show. Yoon of Winner felt everyone performed well from start to finish. YG producer Choice37 called their performance "amazing."
BabyMonster Last Evaluation Episode 8 would bring a "last mission" and "last evaluation," with a group dance performance, whose full summary continues on below.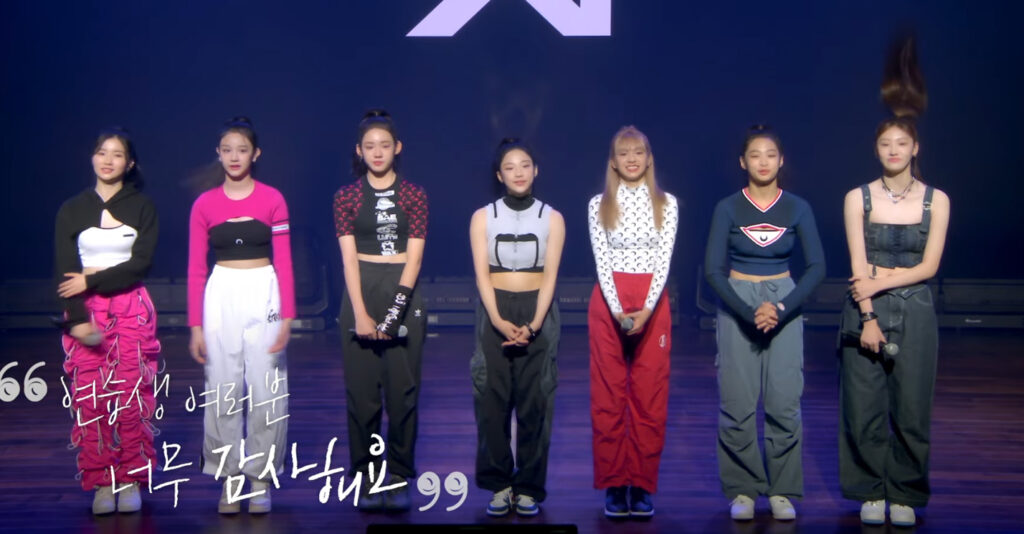 Episode 8: The Last Evaluation for BabyMonster
Last Evaluation Episode 8, aired April 28, 2023 KST: For their final mission, the BabyMonster members received a 2NE1 mashup dance challenge, including "I Am the Best" and "Can't Nobody." They were also instructed to come up with their own individual choreography, and the best ones would be performed by their creators during the dance. Dance choreographer Leejung ultimately selected Haram, Asa, and Ruka's choreography. Asa and Ruka had already impressed with their choreography previously, but Leejung was surprised at the aptitude Haram demonstrated this time. Afterward, Leejung selected Chiquita to perform the killing move from the song "Fire" as a solo performance, because she performed that dance the best among the member candidates.
During practice, Pharita's legs hurt, and she wore a protector on her right ankle. When she thought about how her mother was not here for her this time and she would have to persevere on her own, she cried, but she resolved to continue working hard.
On the day of the titular last evaluation, the BabyMonster member candidates successfully performed the 2NE1 mashup dance challenge. Lee Chanhyuk of AKMU cited Ruka's performance as particularly impressive. Lee Suhyun of AKMU thought everyone performed well. Hoony from Winner felt he could see each of their dreams and their desperation in the dancing. Yoon of Winner echoed this sentiment. Leejung expressed her gratitude to the member candidates for sharing her passion for dance over the past two-to-three years.
Afterward, speaking to the camera, YG executive producer Yang Hyun-suk revealed he had originally imagined BabyMonster as having five members, and he implied that he still felt that way. Then he announced that the final BabyMonster member lineup would be revealed on May 12 at 12:00 a.m. KST.
Conclusion: Final BabyMonster Lineup Revealed, Containing All Seven Members
BABYMONSTER – DEBUT MEMBER ANNOUNCEMENT VIDEO, aired May 12, 2023 KST: In the final announcement, YG executive producer Yang Hyun-suk deceived everyone! In order, Yang Hyun-suk announced the official lineup of BabyMonster like this: Ahyeon, Ruka, Chiquita, Haram, and Pharita.
He claimed Rora was too young and planned to use her as a main vocalist for another group. He likewise claimed that he planned to use Asa for a planned upcoming Japanese project. But then, based on fan feedback over the past few months and feedback from the YG Family, he decided that all seven members would debut together anyway.
The final BabyMonster member lineup is Ahyeon, Ruka, Chiquita, Haram, Pharita, Rora, and Asa. As for when BabyMonster would debut, at the time, he said, "I don't think it will pass this fall," and he promised to accelerate the speed of their debut. It's a happy ending to the series!
One week after the announcement video first premiered, a separate video was uploaded of the BabyMonster members watching and reacting to that video. They shared their joy and nervousness together as they learned they would all debut as one team.
We hope you enjoyed this BabyMonster Last Evaluation episode summary guide and will continue to use K-Pop Answers as a useful reference tool for all your K-pop needs! Next up, perhaps you would enjoy a thorough analysis and summary of who speaks English and other languages in BabyMonster. We also have a comprehensive BabyMonster members profile page that we have meticulously fact-checked with citations.