When the 2023 Mnet survival series Boys Planet concluded, we thought the only new K-pop group to be born from that series would be Zerobaseone. However, it turned out that many other boys who had featured in the series would also form boy groups in 2023, including the likes of EVNNE, TOZ, TIOT, and, yes, One Pact. One Pact hails from Armada Entertainment and comprises Yoong Jongwoo, Jay Chang (who notably finished Boys Planet in 10th place and debuted as a soloist just prior to his announcement in One Pact), Oh Seongmin, former Ciipher member Tag, and Lee Yedam. That is quite a lineup! The "Pact" in their name references the word "Impact," and "One Pact" refers to the group coming together as one to make a great impact. One Pact debuted on November 30, 2023 with the mini-album Moment. To learn how old the One Pact members are right now, here is the current age and birthday for Jongwoo, Jay Chang, Seongmin, Tag, and Yedam.
Explaining How Old One Pact Members Are: Age and Birthday
Jongwoo is 23 years old and was born on June 12, 2000.
Jay Chang is 22 years old and was born on March 8, 2001.
Seongmin is 22 years old and was born on August 25, 2001.
Tag is 21 years old and was born on September 30, 2002.
Yedam is 20 years old and was born on January 19, 2003.
Everyone in One Pact debuted as an adult, and strikingly, no one in the group even debuted in their teens, which is quite rare by the standards of K-pop. Yedam is the maknae — the youngest member — of One Pact, yet he is a relatively mature maknae for debuting at 20. Although, there are a couple caveats to their older debut ages. Tag was actually 18 when he debuted with Ciipher in March 2021, and Jongwoo was briefly part of little-known group Black Level, which debuted in February 2022 when he was 21 years old. (Jongwoo was known as "Ze:U" in that group, and he was actually the maknae.)
Jongwoo is the oldest member of One Pact, and he is also the leader of the group. It is a role reversal from the days of being a maknae.
Use our birth date visual aid to match names with faces and learn who and how old the One Pact members are: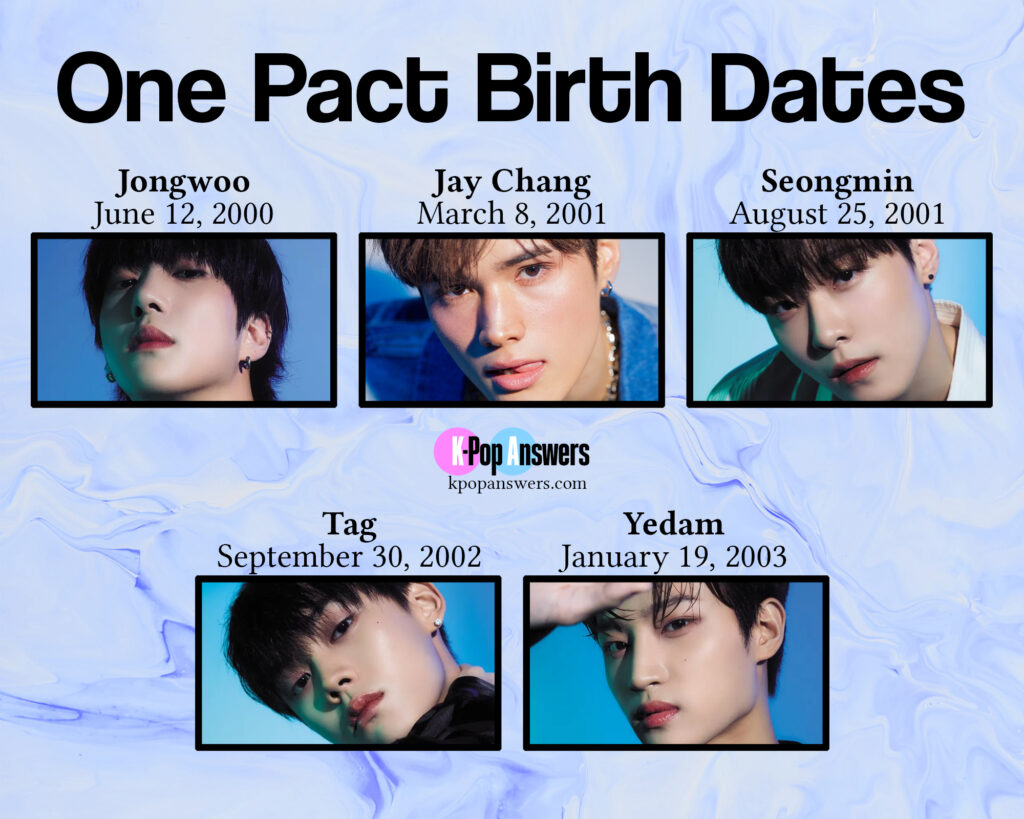 Between current age and birthday, that is everything there is to know about how old One Pact members Jongwoo, Jay Chang, Seongmin, Tag, and Yedam are. They are yet another exciting result of the Boys Planet experience.
For more ages of boy groups that formed after Boys Planet, check out how old the Zerobaseone, EVNNE, and TIOT members are. Notably, EVNNE also features a former Ciipher member — and as its leader!