Many promising male idols first came to public attention during the Mnet reality competition series Boys Planet, such as those who would come together to create the groups Zerobaseone and EVNNE. The members of the Redstart ENM boy group TIOT first gained notoriety there as well, though they were initially known by the simpler, tentative moniker of "Redstart Boys." TIOT made their predebut on August 23, 2023 with a remake of the Click-B song "백전무패" and Frame the Blueprint : Prelude to Possibilities five days later, and they are expected to debut in full in 2024. To learn how old the TIOT members are right now though, here is the current age and birthday for Kim Minseoung, Kum Junhyeon, Hong Keonhee, and Choi Woojin.
Age and Birthday to Explain How Old the TIOT Members Are
Kim Minseoung is 20 years old and was born on November 3, 2003.
Kum Junhyeon is 19 years old and was born on January 15, 2004.
Hong Keonhee is 19 years old and was born on November 15, 2004.
Choi Woojin is 18 years old and was born on January 24, 2005.
As you can see, everyone in TIOT predebuted as adults, which isn't uncommon but also isn't extremely common either. RIIZE would be an example of another boy group that first emerged in 2023 where all of the members were already adults. Regardless, Woojin is the maknae (the "youngest member") of TIOT, having turned 18 in 2023.
Minseoung is the oldest member of TIOT, but it is not yet official if he is the leader because Redstart ENM has not assigned official positions yet. With the members' individual charms, they could likely get by without assigning a position to anyone! Nonetheless, it is also notable that, of the four members, two pairs were both born in the same month.
Use our signature birth date graphic to more quickly learn who the TIOT members are and how old they are: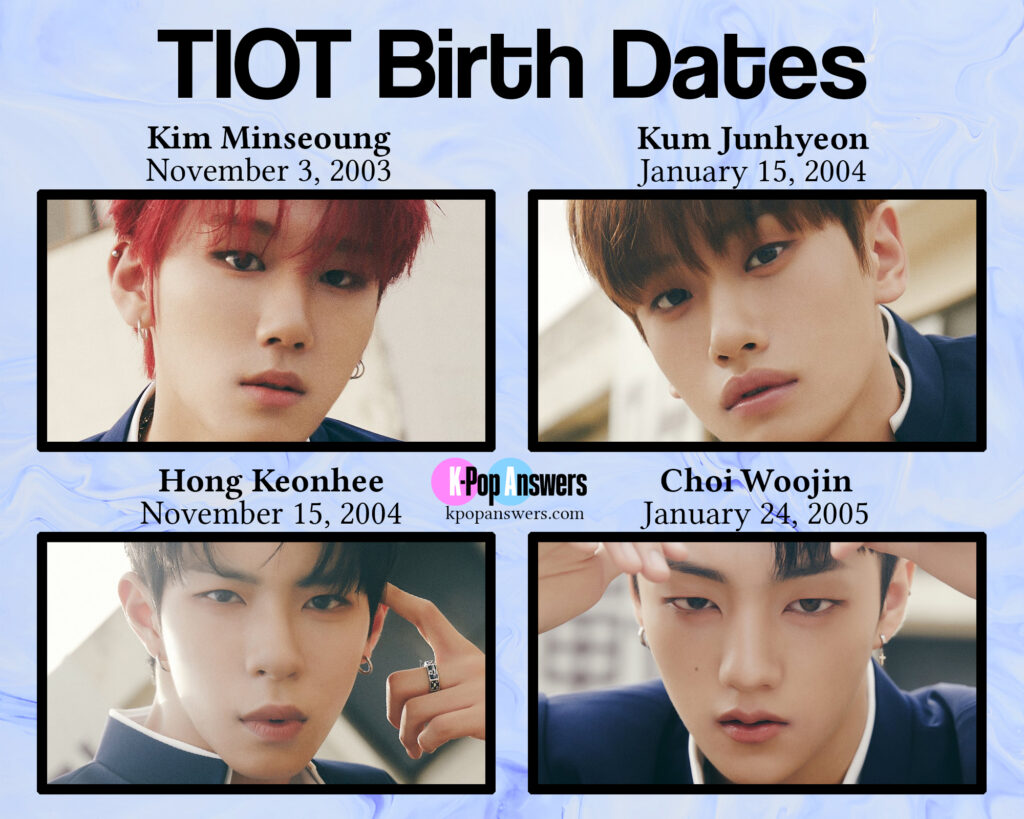 With current age and birthday, that is all you need to know about how old TIOT members Kim Minseoung, Kum Junhyeon, Hong Keonhee, and Choi Woojin are. They will be exciting to watch grow with time, which is fitting, since "TIOT" stands for "Time Is Our Turn"!
For more ages of groups born after Boys Planet, check out how old the Zerobaseone, EVNNE, and One Pact members are.