YG Entertainment K-pop girl group BabyMonster has literally been popular since before it was even confirmed who would be in the group. As the successor to Blackpink at YG, BabyMonster generated perhaps the most hype of any debut in the history of K-pop, and the heavy number of delays leading up to their debut only seemed to enhance the fervor. And since the group was basically born popular, people like to see what the individual members were like prior to debut. So here, we maintain an archive of predebut photos of all of the BabyMonster members — Ruka, Pharita, Asa, Ahyeon (despite her absence for health), Rami (Haram), Rora, and Chiquita — so you can get an idea of what they were like when they were even younger and more "Baby" than "Monster"! As a reminder, this cute predebut photos archive exists for the fun and entertainment of BabyMonster fans, and it is not here to help anyone make frivolous arguments about plastic surgery and/or the "before and after."
BabyMonster Predebut Photos & Video for Ruka, Pharita, Asa, Ahyeon, Rami (Haram), Rora, & Chiquita
Ruka Predebut Photos
Kawai Ruka is the oldest member of BabyMonster (one of only two members to debut as an adult) and originally comes from Japan, where she was previously part of an idol group called Shibu3 Project. She was first introduced as a member of that group on February 24, 2017, and it would appear that her final promotion with Shibu3 Project was on April 15, 2018. She became a YG Entertainment trainee in 2018 and then trained in South Korea until her November 2023 debut in BabyMonster. There are various photos and videos available of Ruka from her time in Shibu3 Project, so we have curated some choice selections for this BabyMonster predebut archive, in addition to images from other, more anonymous sources.
On behalf of Shibu3 Project, Ruka was a background dancer in the below Halloween-themed music video for Atsumi Ueda from October 2017.
Later in October 2017, there was also video of Ruka addressing the crowd at a Halloween-themed performance.
Pharita Predebut Photos
Pharita Boonpakdeethaveeyod originally hails from Thailand, like her younger group member, Chiquita. She had attended Ruamrudee International School, which is likely where Pharita learned to speak English. Prior to joining YG Entertainment as a trainee in 2020 and ultimately debuting in BabyMonster, Pharita was a model, so there are extensive predebut photos of her from that time in that capacity. Particularly, Pharita won the Grand Prize at the China Trendy Children's Hundred Cities Selection Competition, held December 30 – 31, 2019 in Guangzhou, and Pharita's modeling team at Inter Model Thailand reportedly won 13 prizes in total at the event. We are presenting a curated selection of Pharita images intended to reflect her at different ages, as is our goal with all of the BabyMonster members here.
Asa Predebut Photos
Like Ruka, Enami Asa is originally from Japan. She auditioned for YG in 2018 at 12 years old and came from a background in live performance and musicals. As such, when it comes to predebut photos and videos of Asa in the days long before BabyMonster, many of them stem from such performances.
The full Ladybird behind-the-scenes video source is available on YouTube, published May 1, 2017.
Ahyeon Predebut Photos
Ahyeon unfortunately missed debuting with BabyMonster due to health issues, but it is hoped that she will truly join the group later — so she is featured here as well. Ahyeon is a strong all-rounder, with a powerful ability to project her voice. She is also fluent in multiple languages, including English. Basically, there are a lot of reasons that she would be a highly effective member of the group. She originally auditioned at YG Entertainment in December 2018.
These first few predebut photos of Ahyeon come from Twitter user @123_6o6, who seemingly only created an account to share these pictures! The first image is reportedly from early elementary school, the next is reportedly during sixth grade, and the final three images after that are reportedly of Ahyeon at the time of elementary school graduation.
Rami (Haram) Predebut Photos
Shin Haram, whose stage name is Rami, was a child model too, so there are various predebut images and video of her modeling career. However, Rami is also an impressive vocalist who can seemingly hit the highest notes of anyone in BabyMonster, making her particularly important to the group. She auditioned for YG Entertainment in 2018.
Incidentally, Haram's mother is an active Instagram user (as are some other parents of the group), and she has shared many photos of her daughter as well. However, fans quietly agree not to share links to BabyMonster members' parents' social media accounts, as a modest degree of courtesy. We at K-Pop Answers engage in that same etiquette. (Those accounts are public though, so you can find them if you dig a little.)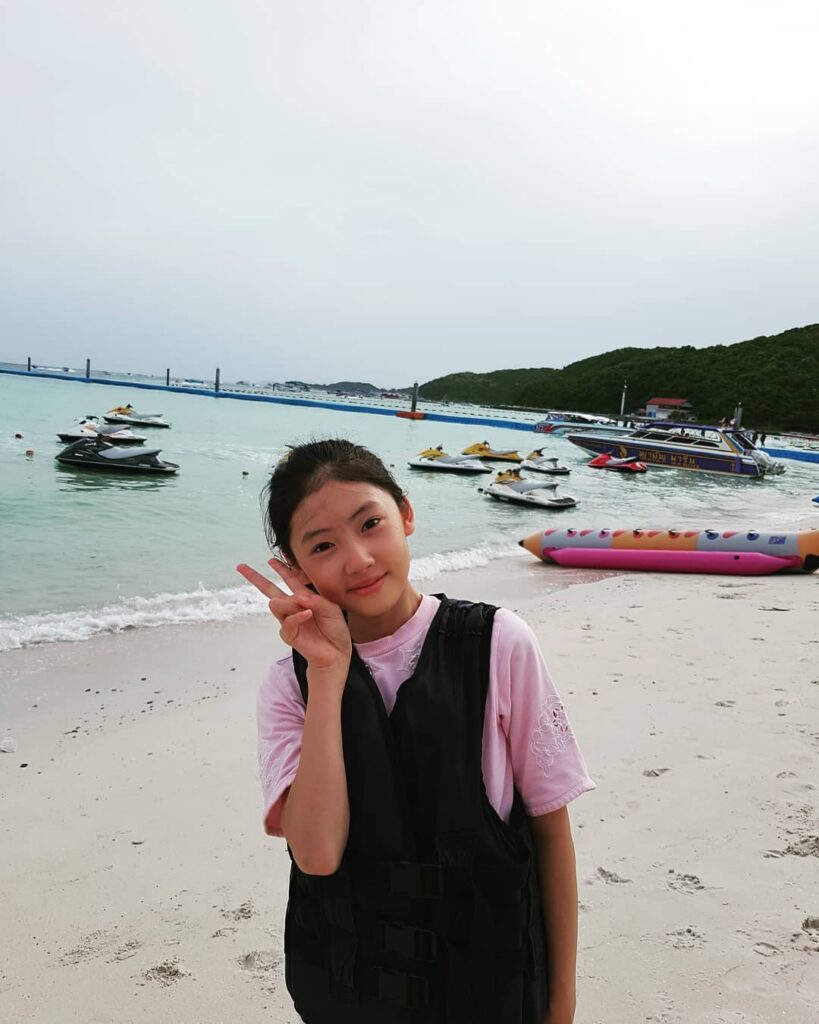 Rora Predebut Photos
Lee Dain is the youngest Korean member of BabyMonster, and YG Entertainment founder Yang Hyun-suk gave her the stage name of "Rora" because he "felt she could become an artist that shines bright like an aurora if we develop the beauty she has." Prior to auditioning at YG Entertainment in May 2018, Rora belonged to a kids girl group called U.SSO Girl, which amazingly also included Hyein of NewJeans. Rora also engaged in modeling and acting.
Chiquita Predebut Photos
Riracha Phondechaphiphat, whose stage name is Chiquita, is the youngest member of BabyMonster and comes from Thailand, like Pharita does. She auditioned for YG Entertainment in March 2021, so she had the shortest training period of any member. However, she thrives on her boldness as a performer.
Out of all the BabyMonster members, it's hard to say who has the cutest predebut photos, but Chiquita sure is cool with her toy gun and her Dragon Ball shirt.
That does it for our archive of BabyMonster predebut photos and video for all of the members, and this space is being updated as any especially noteworthy and/or adorable new images come along of Ruka, Pharita, Asa, Ahyeon, Rami, Rora, and Chiquita. Of course, this is not a comprehensive collection of all predebut photos, as that would simply be too massive for any one page to contain, but we hope this archive makes it easy and convenient to appreciate how all of the BabyMonster members have grown. Please share this page with others to expand the fandom!
For more, check out how old the BabyMonster members are currently and an analysis of who speaks English or other languages in the group. Or check out our complete archive of all BabyMonster music videos. Or if you want to learn everything there is to know about the group, check out comprehensive, meticulously fact-checked BabyMonster profile page for all the members.