The case of K-pop girl group Fifty Fifty, their company ATTRAKT, and ATTRAKT partner company The Givers has turned not just confusing but tragic, as all three have become embroiled in legal conflict with one another. We have provided a succinct yet detailed summary of the legal turmoil surrounding ATTRAKT and Fifty Fifty elsewhere at K-Pop Answers, but a less serious and actually quite funny piece of trivia has arisen from this unfortunate situation. The SBS TV series Unanswered Questions, or 그것이 알고싶다 in its native South Korea, did an episode about Fifty Fifty and ATTRAKT, and it revealed that the original title of their viral hit song "Cupid" was "Cupid Is a Hoe" (a presumed misspelling of "Cupid Is a Ho," a derogatory term).
Viral Fifty Fifty Song "Cupid" First Had a Title of "Cupid Is a Hoe" (as in "Ho")
The K-pop song "Cupid" was composed by Swedish composers Adam von Mentzer, Mac Felländer-Tsai, and Louise Udin. Unanswered Questions demonstrated their original demo version of the song (beginning at 24:04 in the episode), which contained lyrics that had been written in English. This version of the Fifty Fifty song was entitled "Cupid Is a Hoe."
When ATTRAKT ultimately recorded and released the song with Fifty Fifty, it was released in two versions: "Cupid," the standard version of the song with primarily Korean lyrics, and "Cupid (Twin Ver.)," a version of the song with entirely English lyrics. (The latter is the version that went viral internationally.) The lyrics revealed in Unanswered Questions demonstrate that the English lyrics of "Cupid (Twin Ver.)" are nearly identical to the English lyrics the Swedish composers had originally written. The only lyrical differences in the final release are as follows: (We have included screen captures from the show as well.)
The title was changed from "Cupid Is a Hoe" to simply "Cupid."
"Now I'm crying in the club" was changed to "Now I'm crying in my room."
The chorus lyric "Cupid is a hoe" was changed to "Cupid is so dumb."
"Been counting the days since October" was changed to "Been counting the days since November."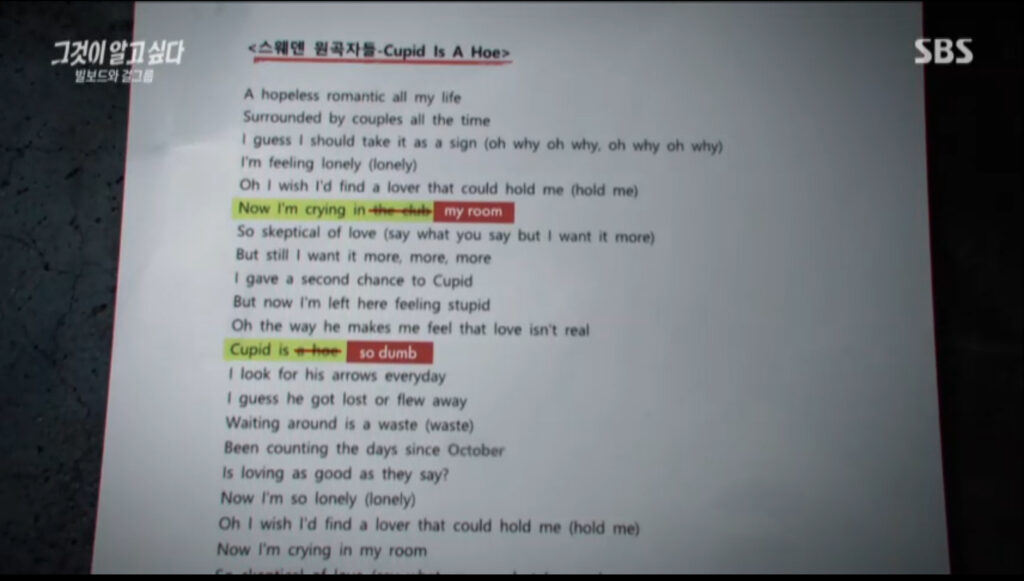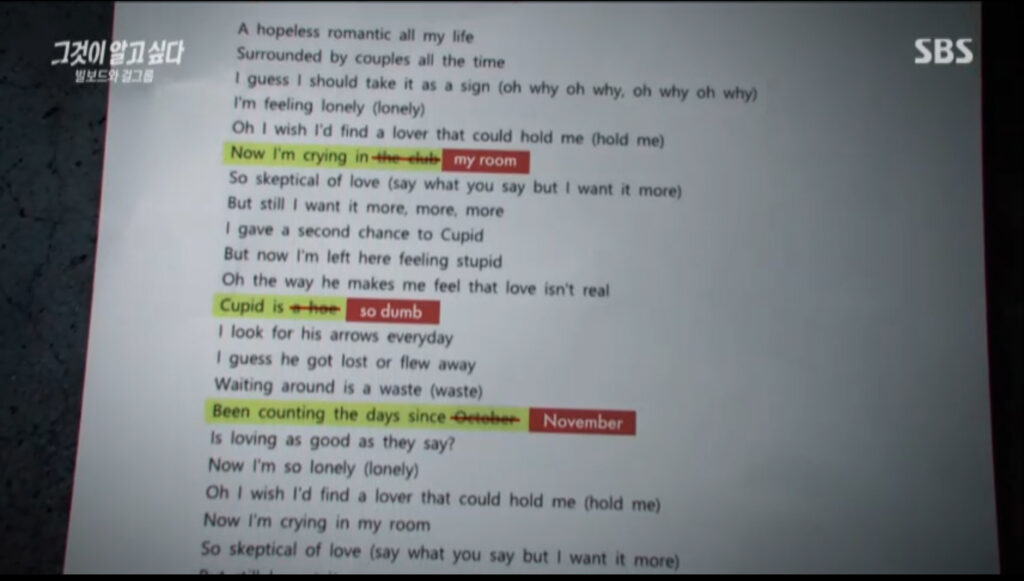 While the legal conflict among Fifty Fifty, ATTRAKT, and The Givers is unfortunate, most can probably agree that "Cupid" is a better name for the hit song than anything that involves calling the cherub a ho. Indeed, one wonders if the song would have been as popular if it had kept its original proposed name.
We have plenty more content about Fifty Fifty at K-Pop Answers to enjoy, such as how old the members are, whether they can really speak English, an archive of predebut photos of the members, and a full profile of facts and trivia for members Keena, Saena, Sio, and Aran!