I have heard and enjoyed a lot of K-pop for well over a decade, but I had never listened to a NewJeans song in my life before I was sent the Get Up mini-album to review. Here goes nothing! Let's look at what ADOR and HYBE have cooked up.
Get Up Analysis: "New Jeans," "Super Shy," "ETA," "Cool with You," "Get Up," & "ASAP"
1. "New Jeans" – First off, the phrase "So fresh, so clean" needs to be permanently retired from new music. Nonetheless, it's a very interesting choice for an eponymous track (unlike the gold standard of eponymous tracks: "Children of Bodom" by Children of Bodom), but a strong intro that establishes exactly what you'll be listening to for the next 10 minutes. I hope you enjoy UK Garage and Jersey Club.
2. "Super Shy" – Okay, sometimes a rap section really isn't needed. Regardless, it's a more consistently energetic track than the intro but retains the squeaky clean and pleasant vocals and instrumentation. This is probably the most memorable vocal melody on the EP.
3. "ETA" – Alright, at this point it's clear they have a formula and they are sticking to it. I could do without the constant synth trumpet, but otherwise it's another nice song. I enjoyed the speedy syncopated vocal lines in the verse.
4. "Cool with You" – The four-on-the-floor drums in the chorus become all the more effective in this track since they are virtually absent from all other tracks. As with the rest of the EP, the vocals are crisp, pleasant, and borderline hypnotic.
5. "Get Up" – A welcome stylistic departure from the previous tracks, but why is this only 36 seconds long? This is grindcore appropriation! Very unfortunate, as this is an interesting-sounding concept that could have been extrapolated into a much longer song. Certainly, it's an unconventional choice for a literal title track (even if ADOR treats it as a B-side).
6. "ASAP" – The trajectory of the first verse had me thinking this was going to be another upbeat song, but it is actually quite subdued and the chorus reminds me more of an electropop lullaby than anything else.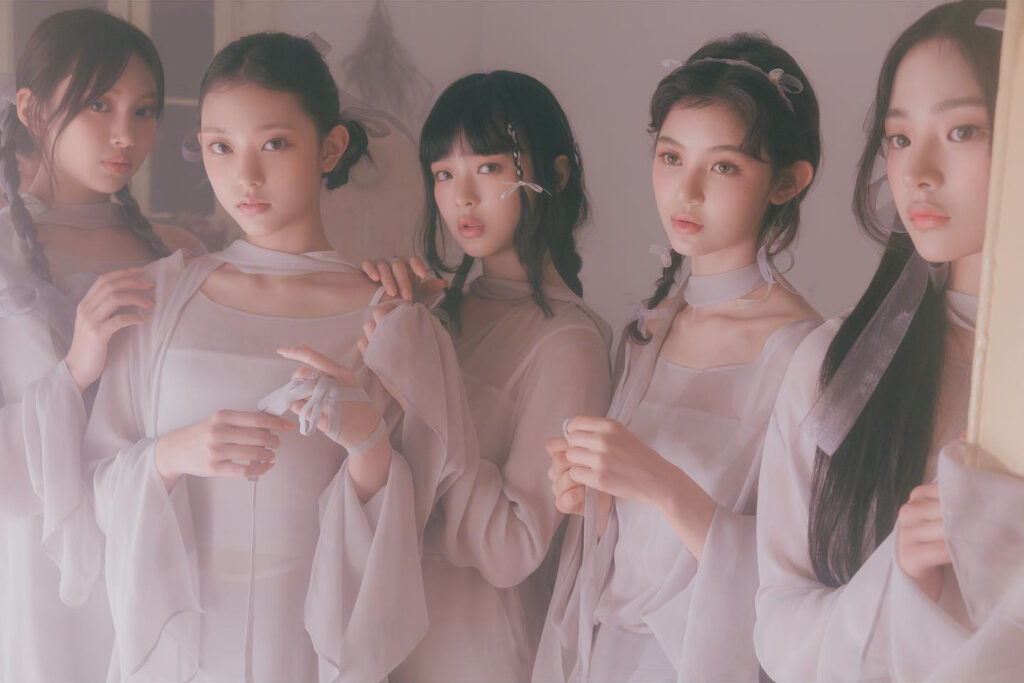 In review, I find the NewJeans Get Up album to be a mostly welcome change from the majority of modern K-pop offerings. It eschews the reliance on trap and hip-hop influences (and thus avoids a lot of the cringe associated with trying to mimic them) and instead draws heavily on UK Garage, with a nice touch of airy vocals and ethereal instrumentation. I really enjoyed the production quality across the board.
The vocals weren't over-engineered like in a lot of other K-pop groups (*cough* JYP producing Twice), and it even seems like they would be reasonably attainable in a live setting. The entire EP is very consistent stylistically, with little deviation from what seems to be a foolproof formula.
Each song and Get Up as a whole are rather flat dynamically, without build-up or climactic beat drops. There are no bangers or great dance tracks, and it lacks any truly memorable or catchy hooks. The entire album does tread dangerously close to straight-up mallcore; I could imagine hearing this on the speakers at an Express store (that is — if I still shopped at Express, which I don't). Furthermore, the prospect of paying a full $1.29 (Yes, I still buy my tracks.) for some of these songs at their short length is absurd. Shrinkflation has hit K-pop, as well! Of course, that has no bearing on the actual music quality.
The Review Verdict on the NewJeans Get Up Mini-Album
Overall, NewJeans' Get Up was a pleasant surprise and makes for a great listen in the right circumstances, perhaps on a long drive or as background music. These tracks would excel if performed with live musicians in a small jazz club or lounge setting, but I wouldn't expect that to ever come to fruition — outside of maybe an "it's Live" performance.
The NewJeans Get Up album was purchased by K-Pop Answers at its own expense for the purpose of this review.