The Myers-Briggs Type Indicator (MBTI) personality test is popular in South Korea, arguably to an extent that isn't even always healthy or practical. But when you use MBTI as just a silly topic of conversation, it's fun to see at a broad level how people might be similar or different, whether it's two idols or you and your favorite idol! KOZ Entertainment K-pop boy group Boynextdoor (보이넥스트도어) has discussed many times how some members are really similar or vastly different from each other, making it especially easy for each member to stand out. If you're not as familiar with the group and their strong personalities though, here is the MBTI for all Boynextdoor members: Sungho, Riwoo, Jaehyun, Taesan, Leehan, and Woonhak.
Boynextdoor MBTI for All Members
Sungho has an MBTI of ENTJ.
Riwoo has an MBTI of ISFP.
Jaehyun has an MBTI of ENFP.
Taesan has an MBTI of INTJ.
Leehan has an MBTI of ESFJ.
Woonhak has an MBTI of ENFP.
The Boynextdoor members have individually discussed their MBTI on several different occasions already, but one convenient source of all six of them is their appearance on Hopeful Song at Noon with Kim Shinyoung from June 14, 2023 (and verified to remain the same in an interview with Joo Woojae published on September 8, 2023). However, it is worth acknowledging that some people's MBTI changes with time, and if any member ever reveals a change in their individual MBTI, this space will be updated to directly address that change.
In fact, it is already well established that the Boynextdoor members have more to their personalities than what a simple four-letter code like MBTI would suggest. For example, Taesan has said that, until ninth grade, he was ENFP. Likewise, although Leehan is ESFJ, he is still thought of as one of the more introverted members, and Riwoo has said of him, "Our MBTIs are different — I'm an ISFP, and he's an ESFJ — but when we talk, we have this amazing connection, and his personality's the most similar to mine." Riwoo has even called it "fate" that he and Leehan became roommates (which is adorable). Famously, Leehan's major hobby is the introverted activity of caring for his fish tank, and he can spend hours just watching his fish and becoming relaxed.
Meanwhile, Jaehyun has acknowledged that he and Woonhak are quite similar as ENFPs and that the two of them were "super close from the very first day." They are especially extroverted in their personalities, though Jaehyun is probably the most emotional member, since he has (in a very sweet way) cried on camera several times since Boynextdoor's debut in May 2023. And lastly, Sungho is the self-described "energizer" of the team; he is extroverted, but he is more prone to planning than Jaehyun is.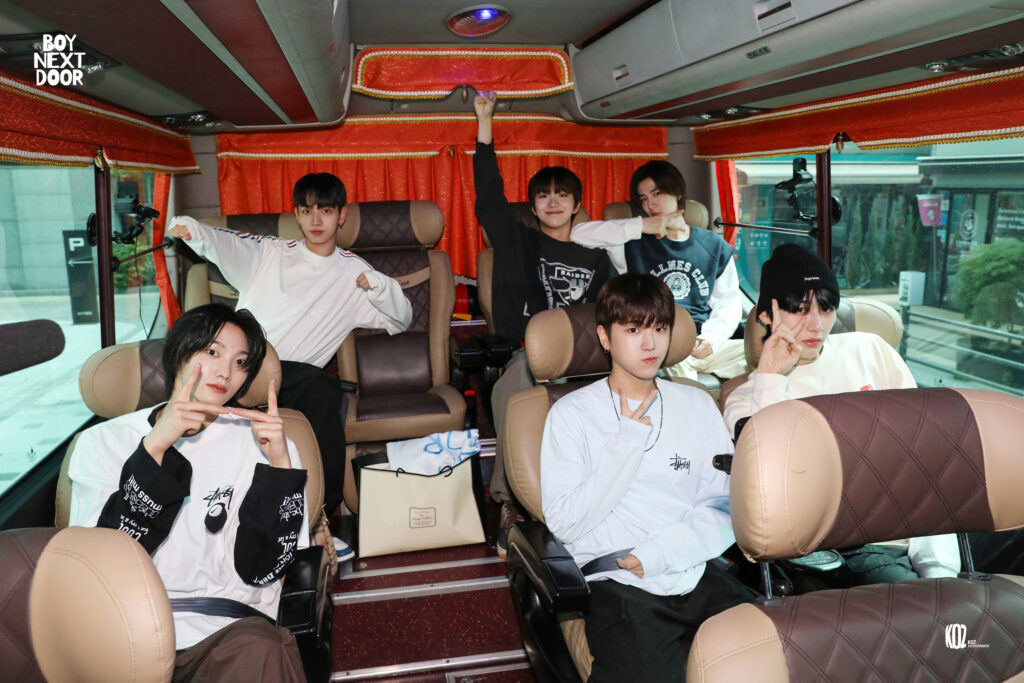 With this succinct rundown, that is everything you need to know about the personality and MBTI of Boynextdoor members Sungho, Riwoo, Jaehyun, Taesan, Leehan, and Woonhak!
However, we have way more content to enjoy about this group where this came from, including our in-depth Boynextdoor members profile page that has current, fact-checked trivia for all members. You can also find out how old the Boynextdoor members currently are, who the leader of the group is, or who speaks English in Boynextdoor. We even maintain an archive of all Boynextdoor music videos!