From their name to their visuals, Boynextdoor has one of the most instantly warm and inviting concepts in K-pop. The basic idea is that these six, improbably handsome nice guys could live in your neighborhood and invite you to their cool secret house party. It's appealing to young people, but it's also appealing to older K-pop listeners because the suburban settings and style of filming evoke nostalgia for times past. It appears to be a winning formula from KOZ Entertainment and HYBE. But if you want to know who within the group is leading these friendly faces, among Sungho, Riwoo, Jaehyun, Taesan, Leehan, and Woonhak, here is the leader of Boynextdoor.
The Leader of Boynextdoor Is Jaehyun
Yep, Jaehyun is the leader. This was officially confirmed for the first time in a video released on the day of their debut in May 2023, in a debut showcase stylized like a late-night talk show called [BOYNEXTDOOR TONIGHT], which he also hosted. The video casually introduced Jaehyun as the leader of the group in an outdoors prerecorded segment, and beyond that, the video surprisingly did not put much attention on the fact that he is the leader. Instead, a humorous prank played out with an English speaker pretending to be a journalist and asking them questions, and Jaehyun used his leadership intuition and impressive English skills to get through the situation intact!
The [BOYNEXTDOOR TONIGHT] showcase additionally confirmed that Riwoo is the main dancer of the group, though it did not state any other formal group positions.
The reason why Jaehyun is the leader of Boynextdoor may have to do with his multifaceted skill set. According to his own explanation in an interview conducted in May 2023 (published June 7, 2023) with Weverse, "a lot of companies" had asked Jaehyun to join them before he finally decided to join KOZ. He had attracted attention from companies for his music that he was creating, and he demonstrated skill at both singing and rapping. In turn, he has applied his songwriting skills to Boynextdoor ever since their debut. Additionally, Jaehyun is just a positive, unifying force within Boynextdoor. This is obviously important for a leader. (He is also probably the most emotional member, as he has cried on camera on several occasions!)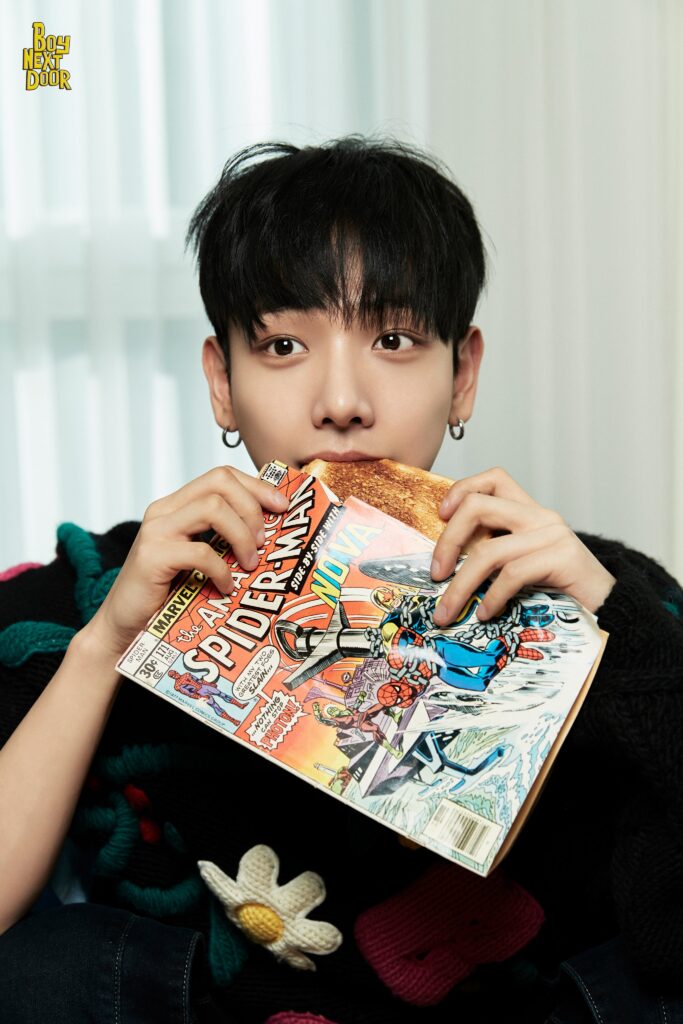 So, the leader of Boynextdoor is officially Jaehyun, as first announced in the [BOYNEXTDOOR TONIGHT] showcase. For more about the group, check out how old the Boynextdoor members are or what each member's MBTI is, or check out our in-depth Boynextdoor members profile packed with trivia.