It often feels like any K-pop group that doesn't belong to one of the "Big 4" companies is comparatively underappreciated. There are lots of wonderful groups from mid-sized companies with excellent songs who maintain a dedicated following — yet their fans always think they deserve more recognition. Woollim Entertainment K-pop girl group Rocket Punch seems to fit the bill there. They're awesome, yet — gosh, don't you wish they appeared in the headlines a bit more often? Nonetheless, their Ketchy fandom will continue to love them! Rocket Punch originally debuted on August 7, 2019 with the mini-album Pink Punch and the lead single "빔밤붐 (BIM BAM BUM)." To explain how old the Rocket Punch members are today and also back at debut, here is the current age and birthday for Juri, Yeonhee, Suyun, Yunkyoung, Sohee, and Dahyun.
How Old Explained: Age & Birthday for Each of the Rocket Punch Members
Juri is 26 years old and was born on October 3, 1997.
Yeonhee is 23 years old and was born on December 6, 2000.
Suyun is 22 years old and was born on March 17, 2001.
Yunkyoung is 22 years old and was born on November 1, 2001.
Sohee is 20 years old and was born on August 14, 2003.
Dahyun is 18 years old and was born on April 29, 2005.
With that information, we can see that the Rocket Punch members were the following ages back at debut in August 2019: Juri was 21, Yeonhee was 18, Suyun was 18, Yunkyoung was 17, Sohee was 15 (nearly 16), and Dahyun was 14. Dahyun is the clear maknae ("youngest member of the group"), as she had only turned 14 a few months prior to debut. As we have often noted, age 14 is typically the youngest that an idol will debut, as was the case with Jiyoung in KARA or, in more recent times, Hyein in NewJeans or Kaedan in Fantasy Boys.
Meanwhile, although Yeonhee is the leader of Rocket Punch, Juri from Japan is the oldest member of the group. Juri was previously a member of popular Japanese pop group AKB48. The way that entering and rising through the ranks of AKB48 works is actually somewhat complicated, making it deceptively challenging to pick a precise day that Juri truly debuted in Japan. However, she was basically 13 or 14 years old when she debuted in Japan.
To help newcomers better learn who is who among Rocket Punch members and understand their ages faster, consult our birth date visual aid: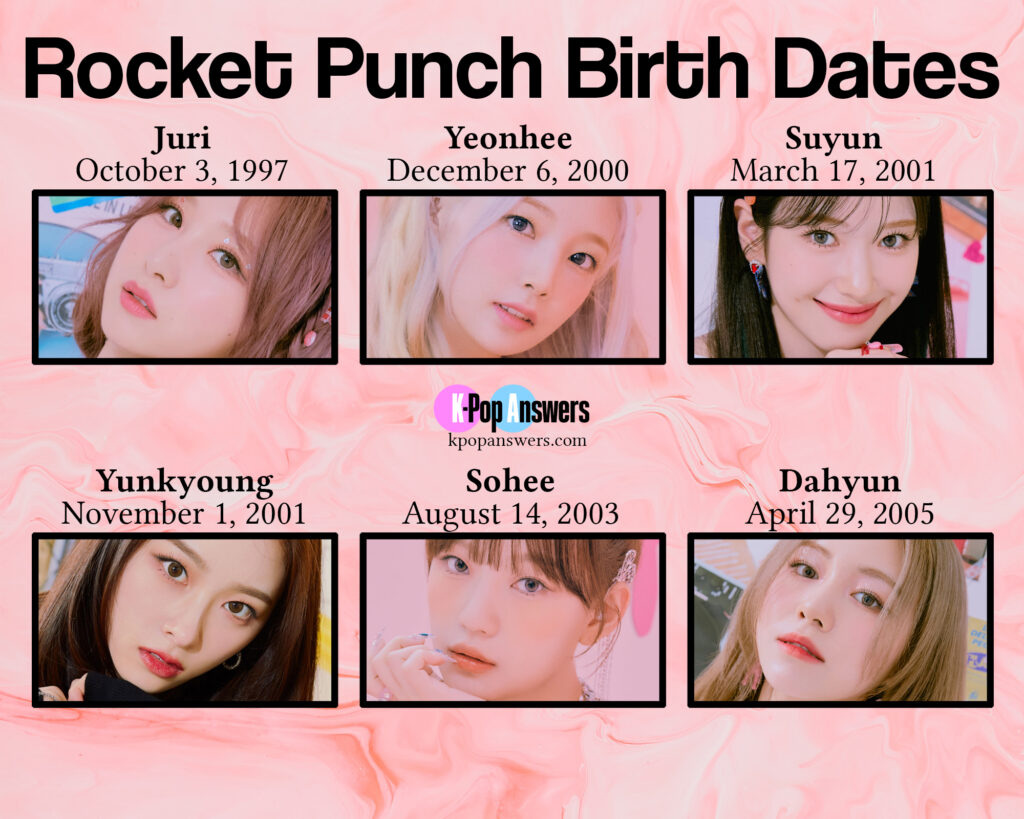 That is everything you need to know about how old Rocket Punch members Juri, Yeonhee, Suyun, Yunkyoung, Sohee, and Dahyun are, now that you have their current age, age at debut, and each birthday. This is one punch to the face you can actually enjoy!
For more from Rocket Punch, you might want to check out our full summary of the 2023 series Queendom Puzzle, which prominently featured Juri, Yeonhee, and Suyun as contestants. In fact, Yeonhee won the series and became part of the project group called EL7Z UP!