Vine Entertainment K-pop girl group Secret Number knows all the codes for breaking into your hearts. The group is refreshingly international in its member composition and even a bit diverse in its ages, so the group offers something to a broad range of demographics with its excellent music. Secret Number debuted on May 19, 2020 as a five-member group with single album Who Dis?, and despite a slight lineup shuffle, they have maintained a healthy fandom with LOCKEY. To learn exactly how old the Secret Number members are now, here is the current age and birthday for Léa, Dita, Jinny, Minji, Soodam, and Zuu (and the birth date for former member Denise).
Age & Birthday to Explain How Old the Secret Number Members Are
Léa is 28 years old and was born on August 12, 1995.
Dita is 26 years old and was born on December 25, 1996.
Jinny is 25 years old and was born on January 20, 1998.
Minji is 24 years old and was born on March 31, 1999.
Soodam is 24 years old and was born on November 9, 1999.
Zuu is 23 years old and was born on March 24, 2000.
Former member Denise was born on January 11, 2001. Following contract difficulties and not taking part in the Fire Saturday comeback, Denise herself confirmed on February 4, 2022 that she was no longer a member of Secret Number as of February 1, 2022.
With that in mind, at the time that Secret Number debuted back in May 2020, the members were the following ages: Léa was 24, Dita was 23, Jinny was 22, Soodam was 20, and Denise was 19. Minji and Zuu joined Secret Number for third single album Fire Saturday, released on October 27, 2021, at which time Minji was 22 and Zuu was 21.
Notably, Léa (who is Japanese) had previously debuted in short-lived Korean girl group SKARF in 2013 under the name "Hana," when she was 17. Back in 2016, Minji had competed on Mnet survival series Produce 101, and she was 16 at the time it began airing. In 2018, Jinny (who has dual Korean and American citizenship) and Minji also competed on Mnet series Produce 48, at which time Jinny was 20 and Minji was 19.
At any rate, Denise was originally the maknae ("youngest member") of Secret Number, but Zuu became the new maknae after she joined the group and Denise had departed. Léa is the oldest member of Secret Number and sometimes thought of as the leader, but it does not appear to be a formal position within the group. Often, with rare exceptions like Brave Girls, idols don't debut older than age 23 (such as Irene in Red Velvet and Solar in Mamamoo), and even that age is rare. So, Léa redebuting at 24 and Dita (who is Indonesian) debuting at 23 is significant in a good way.
Use our birth date graphic to learn who is who within Secret Number and understand how old the members are faster: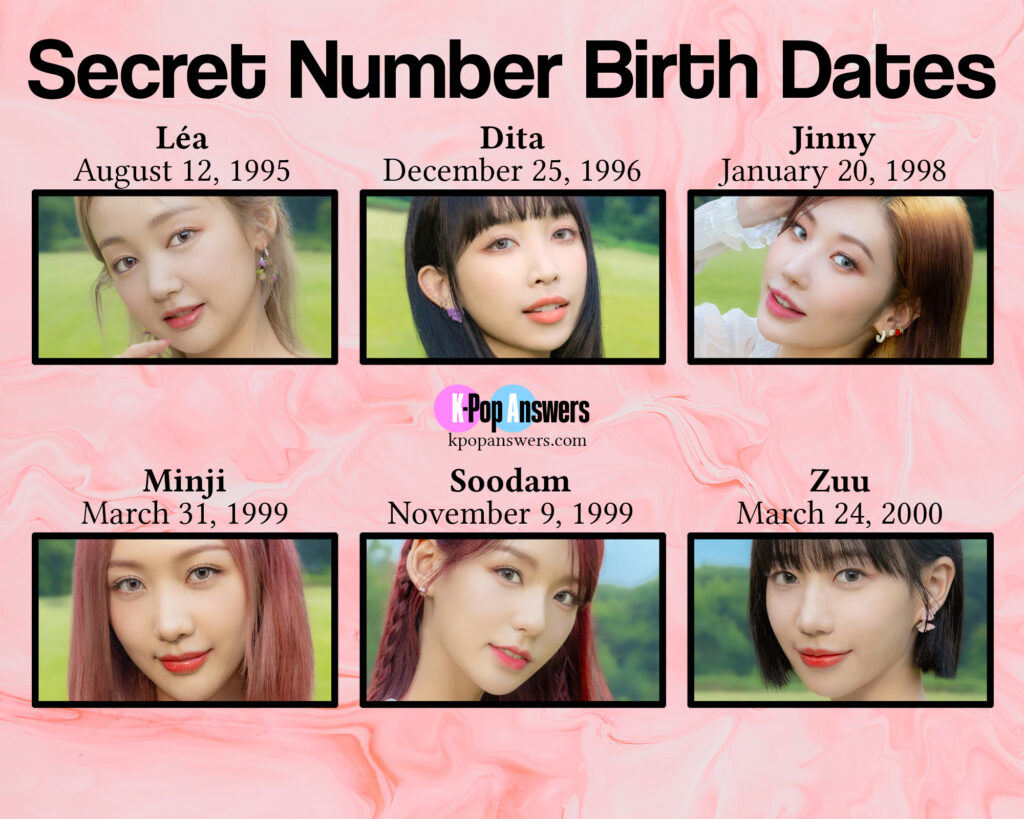 With birthday, current age, age at debut, and even ages for some other events, that is absolutely everything there is to know about how old Secret Number members Léa, Dita, Jinny, Minji, Soodam, and Zuu are! They are a delightful group that deserves even more attention than they currently receive.
For more girl groups that debuted in 2020, perhaps you would like to check out how old the Aespa and StayC members are.